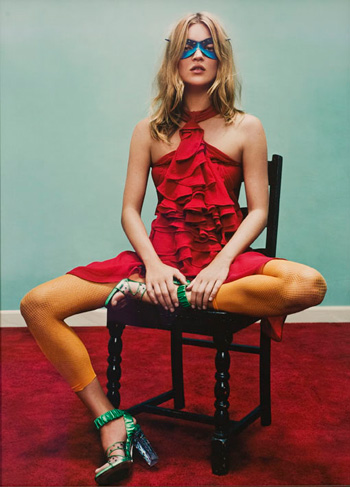 Expositions du 21/9/2008 au 15/11/2008 Terminé
Camera Work Gallery Kantstraße 149 10623 Berlin Allemagne
Gallery Camera Work in Berlin presents from September 20th until November 15th an exhibition of fashion photography of the 20th and 21st centuries. This group exhibition provides a representative overview of the development of fashion photography from its beginnings in the 1920s to the present time. With over 250 works of a total of 65 photographers - many of which are vintages - one can trace the different trends of fashion photography.

The spectrum of the photographs on display ranges from the sometimes classic compositions of an Edward Steichen to the experimental photographs of Man Ray, from the sexual revolution to the resulting emancipation of women as shown for example by Helmut Newton, from the cool elegance of the 1990s - influenced by Peter Lindbergh - to the highly imaginative works of a Tim Walker. Only a handful of exemplary trends of the comprehensive exhibition have here been mentioned. Photography and painting hybrids by Michelangelo Di Battista and Tina Berning complete the exhibition by successfully visualizing the strong orientation of fashion photography towards the fine arts.

Even though Adolphe Braun can already be seen as a fashion photographer avant-garde in the mid-19th century, photographers on display in the exhibition such as Adolf Baron de Meyer, Edward Steichen, and George Hoyningen-Huene are more commonly thought to be the founding fathers of fashion photography. The creation of "Condé Nast Publications" in 1909 along with its later purchase of "Vogue" (published for the first time in 1892) particularly helped fashion attain its triumphant worldwide success through photography. In works by Horst P. Horst and Irving Penn it is already noticeable that clothing is successively stripped from its previously central focus in fashion photography. Indeed, instead of fashion, figuration and increasingly expensive arrangements as well as interpretation moved to the foreground.

There is hardly any other genre besides fashion photography that is able to capture the zeitgeist of a decade with such clarity. Moreover, it tells us in a very vivid and lucid way about the longings and dreams of the respective generations. Fashion photography consistently defies any conventions and attempts to broadly define itself. Thus, to say that there is a linear development is not entirely correct. Rather, there is a complex and lively iconographic system of analogies, references, but also astounding advances, which makes looking at this variety so truly pleasurable.