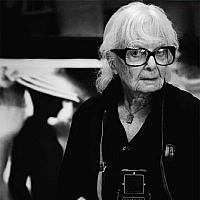 Lillian Bassman
#Photographe
#Incontournable
Lillian Bassman est née à Brooklyn aux Etats-unis et élevée dans le Bronx, elle fait ses débuts dans le milieu de la mode en 1941 en tant qu'assistante. Elle a étudié le dessin textile et l'illustration de mode et ne connaît encore rien à la photographie. Alexey Brodovitch, le directeur Harper's Bazaar, la prend sous son aile. En 1945, elle deviendra même la directrice artistique dy Junior's Bazaar. Dès qu'elle le peut, elle s'enferme dans la chambre noire du magazine. Elle apprend toute seule à développer les photos et surtout : à les modifier.

Lillian Bassman est décédée le 13 février dans son appartement à Manhattan. Elle était âgée de 94 ans.

Elle aimait photographier les femmes et faire ressortir leur élégance. Lilian Bassman était renommée pour son travail de photographe de mode, mais aussi pour ses clichés artistiques. Elle est l'une des rares femmes de sa génération a s'être imposée dans le métier.

Une carrière prometteuse.

En 1947, le photographe Richard Avedon lui prête son atelier. Elle publie sa première série de photographies. Les clichés paraissent vaporeux, avec des contrastes appuyés. Une pratique à mi-chemin entre l'avant-guarde et le romantisme. Ses modèles longilignes semblent onduler sur le papier glacé. « Les femmes qui m'intriguaient avaient des cous superbes et des mouvements de mains des plus expressifs. Quand j'ai découvert El Greco, ce style étiré est devenu ma manière de voir. »

Rapidement, son travail intéresse les publicitaires. Sa pratique devient intensive. Elle réinvente la photographie de lingerie (auparavant plus proche de l'imagerie médicale) en lui insufflant de la sensualité.

En 1969, elle décide brusquement de tout arrêter. Elle se dit lassée des modèles et de leurs exigences. Elle détruit la plus grande partie de ses photographies commerciales. Son travail éditorial se retrouve entassé dans des sacs poubelle. Dès lors, elle se consacre uniquement à la photographie d'art.

Renouveau.

Il faut attendre les années 90 pour qu'elle exhume ses premières œuvres. Encouragée par Martin Harrison, elle décide de les rééditer. Cette fois-ci, elle peut se permettre de les retoucher comme elle le souhaite : plus de comité éditorial pour la freiner. Son travail connaît une seconde vague d'enthousiasme. Elle expose à galerie Hamilton de Londres et au Carrousel du Louvres.

Parallèlement, elle recommence à faire des shootings de mode. Depuis, elle n'a plus lâché son appareil.

---

Lillian Bassman was born in 1917 in Brooklyn, New York. She reigns today as the doyenne, one of the last great women photographers of the post war period. She was married to Paul Himmel in 1935 and is one of the truly great artist couples, literally of the last Century, they have been married for more than 73 years!