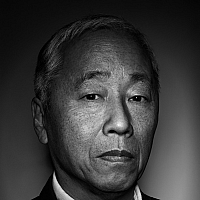 Hiroshi Sugimoto
#Photographe
#Incontournable
Né à Tokyo en 1948, Hiroshi Sugimoto est un photographe japonais.

"Le concept et la vision naissent ensemble" (Hiroshi Sugimoto) Après des études d'économie à la Rikkyo Saint-Paul's University de Tokyo, Sugimoto quitte le Japon en 1970 pour étudier la photographie à l'Art Center College of Design de Los Angeles. Il vit et travaille à New York depuis 1974. La carrière photographique de Sugimoto commence avec la série «Dioramas» (1976-1980, reprise en 1992). Dans le Museum d'Histoire naturelle de New York, il photographie les installations d'animaux sauvages naturalisés devant des paysages peints - les espaces de l'illusion et du simulacre. La série suivante, «Theaters» (1978-1980), traite des intérieurs de théâtres américains des années 1920-1930, reconvertis en salles de cinéma. En situant un écran au centre du cadrage, Sugimoto expose sa pellicule pendant toute la durée de la projection. C'est ainsi que la lumière de l'écran, totalement surexposée dans l'image, éclaire méticuleusement les décors de la salle. Comme les précédentes, la troisième série est réalisée à l'aide d'une chambre 8 x 10 pouces et s'intitule «Seascapes» (1980). Les éléments primordiaux comme la mer, l'air, la lumière et l'horizon correspondent à une recherche obstinée sur le temps et l'état originel de la mémoire humaine.

English Version

Born in Tokyo in 1948, Sugimoto left Japan in 1970 after graduating from Rikkyo University with a degree in economics. He traveled throughout the Soviet Union and Europe and then moved to Los Angeles, where he studied photography at the Art Center College of Design. His work has been exhibited in group and solo shows internationally and he was the recipient of the Hasselblad Foundation International Award in Photography in 2001 and the Mainichi Art Prize in 1988. He currently lives in New York and Tokyo.