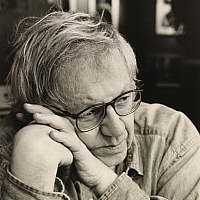 Saul Leiter
#Photographe
#Incontournable
1923 Naissance à Pittsburgh, Pennsylvanie, fils d'un rabbin renommé.
1935 Sa mère lui offre un appareil photo Detrola.
1944 Ses peintures sont exposées à la Ten Thirty Gallery, Cleveland, à l'Outlines Gallery, Pittsburgh, et au grand magasin Gump, San Francisco.
1946 Quitte le Telshe Yeshiva Rabbinical College de Cleveland pour s'installer à New York et se consacrer à la peinture. Se lie d'amitié avec le peintre expressionniste abstrait Richard Pousette-Dart. Expose aux côtés de Philip Guston et Willem de Kooning. Rencontre Eugene Smith. Commence à s'intéresser à la photographie.
1947 Visite l'exposition Henri Cartier-Bresson au Museum of Modern Art de New York (MoMA).
Décide de devenir photographe. Echange quelques tirages d'Eugene Smith contre un Leica et commence à photographier les rues de New York en noir et blanc. Une de ses peintures est montrée dans l'exposition « Abstract and Surrealist Art » à l'Art Institute of Chicago.
1948 Commence à photographier en couleur.
1951 Sa série noir & blanc « The Wedding as a Funeral » est publiée dans LIFE.
1953 Edward Steichen inclut 25 de ses images noir & blanc dans son exposition « Always the Young Stranger » au MoMA. Ses images font également partie de l'exposition « Contemporary Photography » au Musée d'Art Moderne de Tokyo. Ouvre un studio sur Bleeker Street consacré au portrait, à la mode et à la publicité.
1955 Première exposition de ses photographies couleur à l'Artist's Club, lieu de rencontre des peintres expressionnistes abstraits.
1956 Exposition individuelle à la Tanager Gallery, New York.
1957 Steichen sélectionne une vingtaine de ses images couleur pour une conférence au MoMA, « Experimental Photography in Color ». Ses images de mode sont publiées par Henry Wolf, directeur artistique, dans Esquire, puis dans Harper's Bazaar. Il devient photographe de mode. Ses travaux seront publiés notamment dans ELLE, LIFE, Nova, Vogue et Queen.
1991 Exposition « Appearences : Fashion Photography Since 1945 » au Victoria & Albert Museum, Londres.
1992 Son travail noir et blanc est publié dans l'ouvrage « The New York School: Photographs
1936 - 1963 », de Jane Livingstone.
1993 Ses travaux noir & blanc sont exposés à la Howard Greenberg Gallery, New York, qui le représente.
2005 Exposition « Early Color » à la Howard Greenberg Gallery.
2006 Publication de l'ouvrage éponyme chez Steidl, introduction de Martin Harrison, qui présente ses photographies de mode la même année au festival international de la mode à Hyères.
Première exposition individuelle dans un musée : « In Living Color », au Milwaukee Art Museum.
Exposition "Early color", Fifty One Fine Art Photography, Anvers.
2008 Première exposition de son travail personnel en France, à la Fondation HCB, Paris.


English version

Saul Leiter (* 1923, Pittsburgh, Pennsylvania; USA)
arbeitet und lebt in New York.
1935
erste Kamera als Geschenk von seiner Mutter
1940 (frühe 40er Jahre)
besucht das Telshe Yeshiva Rabbinical College, Cleveland
1944
Ausstellung seiner Gemälde in der Ten Thirty Gallery, Cleveland
1946
nach Collegeabschluss Umzug von Cleveland nach New York City
1947
Besuch der Henri Cartier- Bresson Ausstellung im MOMA und Freundschaft mit W.
Eugene Smith, während er selbst erfolgreich als Maler tätig ist.
1948 (circa)
erste Fotoarbeiten mit Farbdiafilm
1951
LIFE veröffentlicht seine S/W Fotoserie »The Wedding as a Funeral» (3. Ausgabe
September 1951)
1957
Edward Steichen nimmt 20 Aufnahmen Leiters in einen Vortrag im MOMA als
Bildmaterial auf: »Experimental Photography in Colour».
1959
beginnt unter Art Director Henry Wolf die Arbeit für Harper's Bazaar
1960- 1980
arbeitet unter anderem für Harper's Bazaar, Elle, Show, Vogue, Queen and Nova.
Publiziert Fotografien in LIFE, US Camera, Photography Annual und Infinity.
1991
seine Fashion Photography wird im Victoria and Albert Museum in London ausgestellt.
Dazu Buchveröffentlichung von Martin Harrison.
1993/94
Ausstellung seiner Schwarz/Weiss Arbeiten in der Howard Greenberg Gallery, New York
2006
erste Einzelausstellung im Milwaukee Art Museum und ebenfalls erste Monographie
die seine Farbaufnahmen zum Inhalt hat.