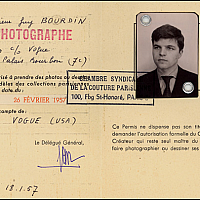 Guy Bourdin
#Photographe de mode
#Incontournable
#Mode
Guy Louis Banarès plus connu sous le nom de Guy Bourdin, naît à Paris le 2 décembre 1928. Guy Bourdin est adopté en 1929 par Maurice Desire Bourdin, d'où son nom Guy Bourdin. Durant son enfance, il se passionne pour le dessin et la peinture.

Collaborateur de Vogue pendant 30 ans

Alors qu'il effectue son service militaire en 1948 et 1949 à Dakar au Sénégal, Guy Bourdin se voit dispenser ses premiers cours de photographies. Son service militaire terminé, il expose dessins et peintures rue de la Bourgogne à Paris. Deux ans plus tard, Guy Bourdin expose ses premières photos au 29 rue de Seine à Paris. Fort de ces expositions, Guy Bourdin continue de faire connaître son travail.

Par ses expositions, il attire l'attention d'Edmonde Charles-Roux, rédactrice adjointe de Vogue. A partir de 1955, il collabore avec le Vogue français. Durant trente ans, il travaillera pour ce magazine de mode. Il photographiera également pour le Vogue italien, Vogue Homme ou 20 Ans. Outre son travail pour les magazines de mode, Guy Bourdin signe des campagnes pour de grands noms de la mode parmi lesquels Bloomingdale's, Versace, Chanel, Dior, Issey Miyake, Gianfranco Ferré, Gianni Versace, Ungaro, Loewe et Charles Jourdan.

Une femme fuyante ou provocante

Décalées, déconcertantes et même déplacées ou provocantes, les photographies de Guy Bourdin font beaucoup parler. Aux antipodes des représentations classiques de la figure féminine, la femme vue par Guy Bourdin est fuyante, parfois même effacée. Sur certaines photos, on ne voit que des jambes féminines. Sur d'autres, une femme en train de se noyer, ou des femmes cachant certaines parties de leurs corps – visage, seins, sexe –. Sur d'autres clichés encore, la femme a le regard lointain. Les hommes sont quasi inexistants dans ses clichés, ou alors rejetés par la femme.

Méconnu du grand public, Guy Bourdin est pourtant l'un des grands photographes de mode aux côtés de Richard Avedon, Edward Westin ou encore Cecil Blumenfeld. Il exerce d'ailleurs une influence importante sur les artistes qui lui succèdent. Il faut dire qu'avec ses clichés atypiques, Guy Bourdin a révolutionné la façon d'aborder la mode.

Guy Bourdin fait naitre plusieurs tendances, dont celle du porno chic qui sera largement reprise dans les années 2000. En fait, ce n'est qu'à titre posthume que le travail de Guy Bourdin sera réellement reconnu. De son vivant, le photographe n'a jamais donné d'interviews ou exposé ses photos de mode. Décédé le 29 mars 1991 d'un cancer, on lui a consacré deux expositions dans les années 2000. La première en 2003 au Victoria and Albert Museum de Londres, et la seconde en 2004 au Jeu de Paume à Paris.

English
Guy Louis Banarès was born December 2, 1928, at 7 Rue Popincourt, Paris. He was abandoned by his mother the following year, and was adopted by Maurice Désiré Bourdin, who brought him up with the help of his mother Marguerite Legay.

During his military service in Dakar (1948-1949), he received his first photography training as a cadet in the French Air Force.

In 1950 he returned to Paris, where he met Man Ray, and became his protégé. Bourdin made several exhibitions of drawings, paintings, and photographs.

His first fashion shots were published in the February issue of Vouge France in 1955. He continued to work for the magazine until 1987.

Bourdin married Solange Marie Louise Gèze in 1961, who gave birth to his only child, Samuel in 1967. His wife died of a heart condition in Normandy in 1971.

An editor of Vogue magazine introduced Bourdin to shoe designer Roland Jourdan, who became his patron, and Bourdin shot Jourdan's ad campaigns between 1967 and 1981. His quirky anthropomorphic compositions, intricate mise en scene ads were greatly recognized and always greatly anticipated by the media.

In 1985, Bourdin turned down the Grand Prix National de la Photographie, awarded by the French Ministry of Culture, but his name is retained on the list of award winners.

Since his death, Guy Bourdin has been hailed as one of the greatest fashion photographers of all time, and his son Samuel Bourdin released a book with the finest prints of his father's work, called "Exhibit A" in 2001 (co-edited with Fernando Delgado). His first retrospective exhibition was held at the Victoria & Albert Museum in London 2003, and then toured the National gallery of Victoria in Melbourne, and Jeu de Paume in Paris.