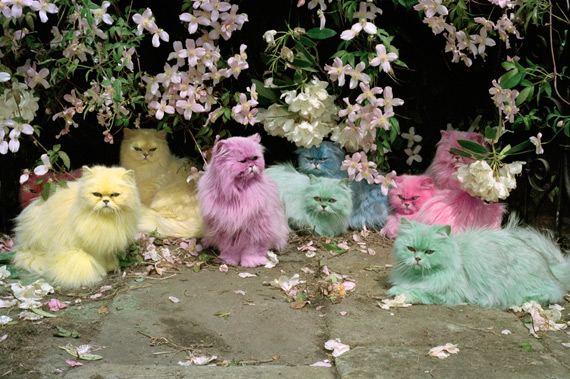 Expositions du 25/11/2009 au 9/1/2010 Terminé
Michael Hoppen Gallery 3 Jubilee Place SW3 3TD London Royaume-Uni
How do you describe colour?

Even the dictionary definition of it is poetic:

'That aspect of things that is caused by differing qualities of the light reflected or emitted by them, definable interms of the observer or of the light.'

And;

'a substance, such as a dye, pigment, or paint, that imparts a hue.'

And;

'a reddening of the face; a blush'.

The scientific words to objectify it are beautiful too: hyperchromatism, wavelength, luminance, iridescence and purity.

Since 1861 and the first permanent colour print by James Clerk Maxwell, photographers have been able to define their subjects in a more immediate and creative way using colour- stripping it out, intensifying or limiting it. The Michael Hoppen Contemporary Christmas show about a group of artists who utilize cyan, magenta, yellow and black in ways that make us hyper- aware of the playful, scientific, accidental or surprising possibilities of colour.