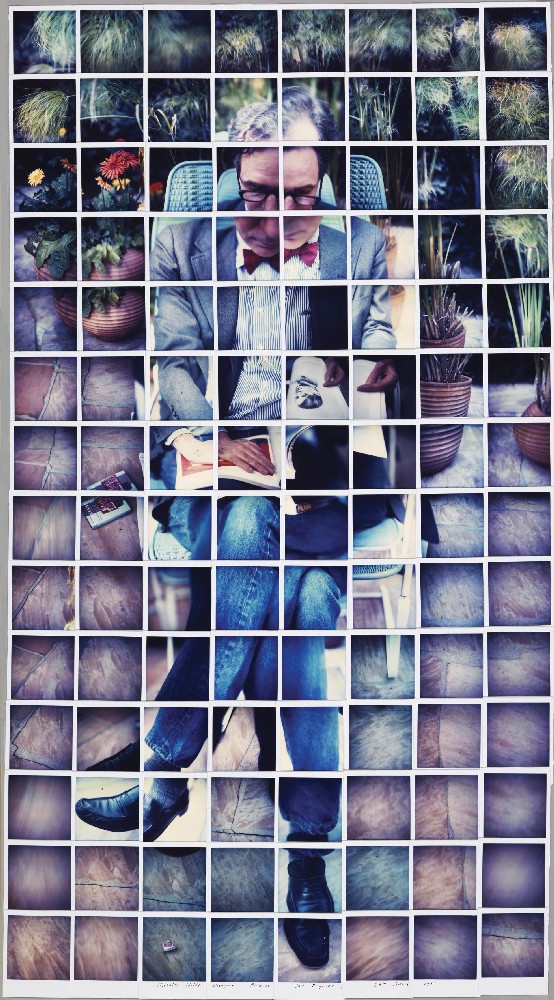 David Hockney, Nicholas Wilder Studying Picasso. Los Angeles 24th March 1982, Composite Polaroid
Expositions du 26/10/2009 au 13/12/2009 Terminé
Pump House Gallery Battersea Park SW11 4NJ London Royaume-Uni
From the lyrics of OutKast's pop anthem Hey Ya to clues laid out for the amnesiac protagonist in Christopher Nolan's film Memento, the Polaroid has had a significant impact on contemporary culture. 'Shake It: An instant History of the Polaroid' brings to light some of the more intriguing and innovative examples in the history of the Polaroid photograph, exploring its cultural significance and the diversity of its applications. Besides work by some of the most important artists working with the medium, the show will also include Polaroids from other diverse professions and disciplines such as forensics, archaeology, medicine, filmmaking and fashion, as well as those of amateurs and enthusiasts.

Many of the works in this exhibition have never been shown in the UK before, such as David Hockney's large composite Polaroid Nicholas Wilder Studying Picasso. Los Angeles 24th March 1982, which references the stylisation and methods of the cubists, Michael Snow's play on the immediacy of the image, Authorization, and Guy Bourdin's intimate, small-scale surreal visions.

Other highlights include Andy Warhol's still-lifes of perfume bottles and shoes; the photographs that an avid shoe collector sticks on to her shoeboxes for ease of identification; portraits of Richard Hamilton who, since 1968, has invited artist friends including Warhol, Francis Bacon, Robert Rauschenberg and Man Ray to photograph him; Polaroids of casting sessions from leading model agency Storm; the mutilated, distorted, blurred self portraits by Lucas Samaras, who discovered the malleability of the format's wet dyes; Araki's provocative kinbaku (Japanese bondage) pictures, as well as his suggestively sumptuous flower pictures, and the film made by Charles and Ray Eames's in 1972 advertising the legendary leather panelled SX-70 model.

With the last batch of Polaroid film expiring in October 2009, 'Shake It' is a timely exhibition that captures the aesthetic, conceptual and practical potential of an iconographic photographic format that is on the verge of extinction.