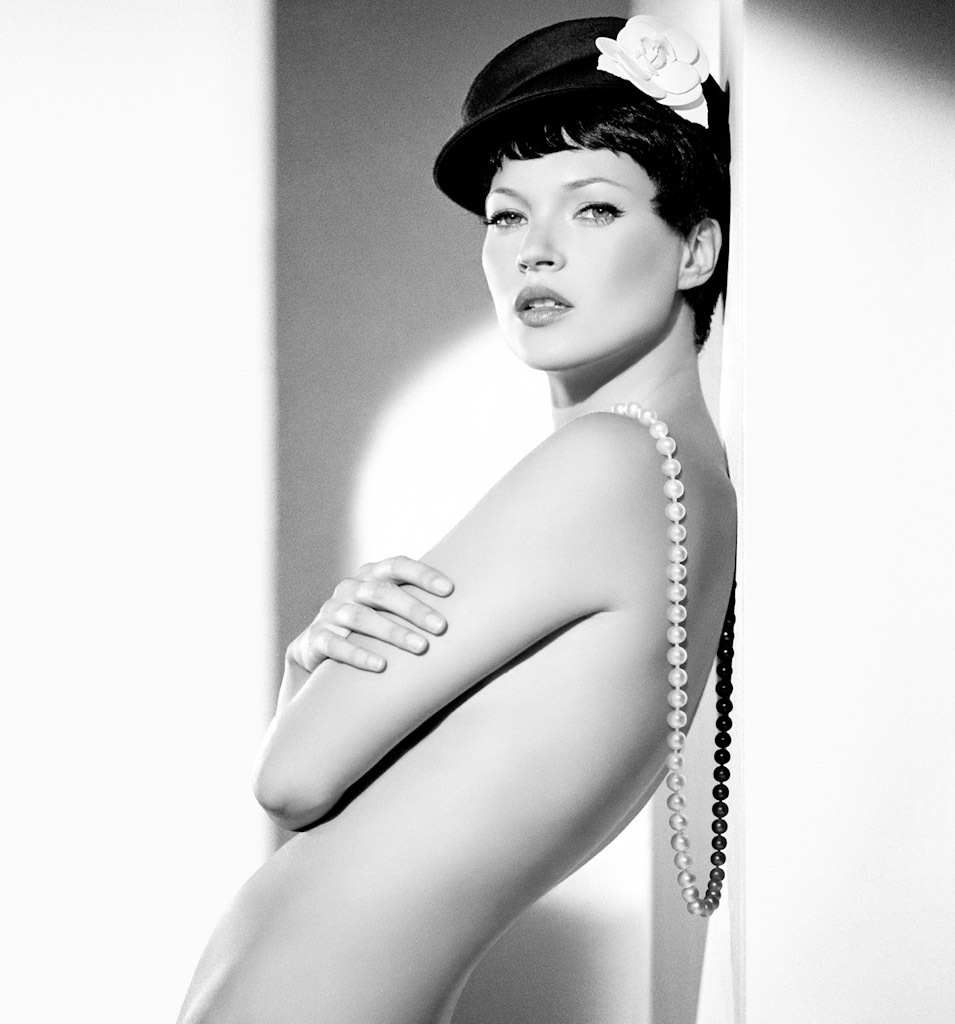 Kate Moss, Paris, 2004 © Dominique Issermann
Expositions du 28/06/2014 au 6/9/2014 Terminé
Camera Work Gallery Kantstraße 149 10623 Berlin Allemagne
The self-curated exhibition shows more than 100 works of the best-known artists and a selection of outstanding fashion portrait and nude photography of the most famous supermodels of the last few decades.
According to Thomas P.Campbell, director of the Metropolitan Museum of Art, a worldwide successful model needs to be able to inspire the designer and to represent his intention. In this way a model can obtain a special iconic status and her face can become an own brand. In art, the motif of a supermodel has developed into an international scheduled genre which brings up maximum prices in auctions. The CWC Gallery appreciates this development with the group exhibition
Supermodels - Then and Now
and presents outstanding works of photographic history from the extensive collection of Camera Work AG and partly never seen works of famous photo artists.
For five decades supermodels have been a great part of photographic art. They inspire artists such as muses. With their cooperation they create artwork which is a mirror of their time. Richard Avedon's works of Twiggy or Veruschka illustrate the revolution of culture of the late 1960s and early 1970s. The same applies to work of Peter Lindbergh and Michel Comte from the late 1980s and early 1990s. On the other hand portraits of Naomi Campbell, Linda Evangelista, Iman of Christy Turlingtonconvey a new image of the understanding of supermodels. Until the mid 1990s the public attention towards famous supermodels had increased. They reached a kind of iconic status in the world of fashion. Instead of staging the models as unapproachable and flawless beautiful goddesses in advertising compaigns, artists such as Peter Lindbergh and Irving Penn show their natural beauty. Lindbergh's intimate portrait of Berri Smithers or Penn's natural nude of Amber Valetta present the beauty of the women and show the intimacy between the artist and the model. A special focus in the exhibition is on Kate Moss, whose portraits and nudes by Ellen von Unwerth, Paolo Roversi, Patrick Demarchelier or Albert Watson show the mutability of the model. Photo art helped creating Kate Moss as a global brand, whose « heroin chic » turned into a unique trend and influence a whole era.
The group exhibition
Supermodels - Then and Now
is an exclusive selection of outstanding portraits of photo art of over fiv
e decades and a testament to the influence of supermodels on photo art. Among the exhibited works are also the world-famous work Mathilde on Eiffel Tower
by Peter Lindbergh, in which fashion slides into the background to make room for the personality, as well as the sensual works of Paolo Roversi's famour Nudi series, in which the artist uses his technique « drawing of light » to create a mysterious aura.