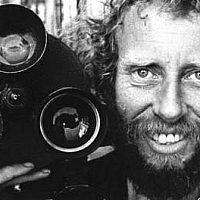 Ed Van der elsken
#Photographe
#Incontournable
Ed van der Elsken was born in Amsterdam in 1925. He lives and works in Paris from 1950 to 1954. In this period, he lives with Ata Kando and her 3 children.
He moves back to Amsterdam and lives there from 1954 to 1971. He travels a lot for his work, for instance to Bagara, Central Africa in 1957, and makes a long world trip in1959 and 1960 with Gerda van der Veen, his second wife.Shortly after, they have two children Tinelou and Daan. During his many travels, he makes reports in colour for the monthly magazine Avenue.
From 1971, he lives in the country near Edam. In this period, he often travels to Japan and also works in Amsterdam. He is living with Anneke Hilhorst and they have a son named John. In 1998 he is diagnosed with cancer. He dies in 1990.

Ed van der Elsken (1925-1990) - the 'enfant terrible' of Dutch photography - was a talented photographer and filmmaker who expressed his meetings with people in photos, photo books and films for more than 40 years. Strolling through cities such as Paris, Tokyo, Hong Kong and Amsterdam or travelling through Africa and Japan, he preferably took photographs of striking individuals with character. His first photo book was published in 1956 Love on the left bank, which instantly made him world-famous. Some twenty photo books followed. He also made several television films, mostly about subjects regarding his own life.