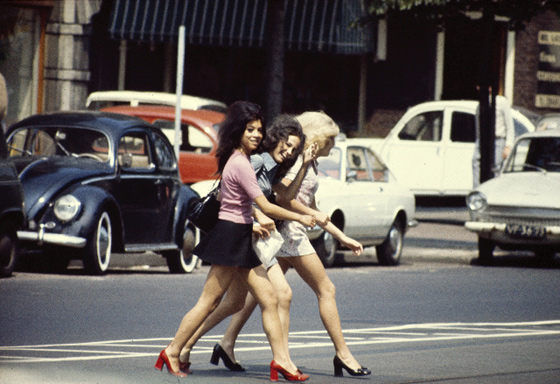 Ed van der Elsken, Beethovenstraat, 1967 Color photograph 15 3/4 by 23 1/2 inches (40 by 60 cm), 20 by 24 inches (51 by 61 cm.) paper size
Expositions du 13/1/2009 au 21/2/2009 Terminé
Mireille Mosler, Ltd. 35 East 67th Street NY 10065 New York États-Unis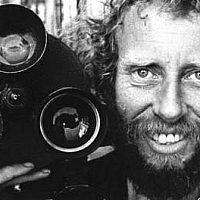 Mireille Mosler, Ltd is pleased to announce My Amsterdam, a selection of black and white vintage prints, color photographs and film by the Dutch artist Ed van der Elsken (1925-1990), chronicling post-war Amsterdam. The concept of this show was first conceived in 2005 by the British photographer Martin Parr for Foam, Fotografiemuseum Amsterdam.

Ed van der Elsken was one of the most influential figures in postwar Dutch photography. He is inextricably linked with Amsterdam, his place-of-birth where he photographed and filmed throughout his life. Van der Elsken captured every aspect of Amsterdam from the 1950s on. Working primarily with natural light, his objective was to show things as they are, without disrupting any integrity or mainstreaming his subjects. His openness to accident and the unexpected is indicative of the artist's lust for life and lends empathy to the strange and tender encounters captured. The quixotic technique often resulted in textures ranging from hard grains to soft blurs, playing upon the pictures' surface in a manner that elevated the atmosphere beyond the confines of its factual content. The unconventional technique and the gritty snapshot-like quality of Van der Elsken's work have been of great importance in the development of contemporary photography.

Heavily influenced by Weegee and stylistically in-step with Brassai's shadowed city streets, Nan Goldin's sexual curiosity, Diane Arbus's eye for the bizarre and Robert Frank's recognition of cultural identity, Van der Elsken explored seedy city underbellies and rugged backwoods with complete surrender to his environment. As a brazen populist and champion of the underdog, he traveled the world, observing idiosyncrasies with a combination of intimacy and drama. Most often, his subject was his beloved, "pre-renovation" Amsterdam, though the underground nightclubs of Jazz-era Paris, and the culturally foreign countries he visited did not go unnoticed. In 1956, Van der Elsken published his first b/w photo-book Love on the left bank, capturing the life of artists in Saint-Germain de Pres in Paris and many of the color photographs in My Amsterdam were originally published in Eye Love You (1977) and Hallo! (1978).

Since 1960, Van der Elsken has been making movies. As part of My Amsterdam, the 16mm b/w film Fietsen (Cycling) (1965, 6 minutes), will be continuously shown. In this experimental film, Van der Elsken observes cyclists in Amsterdam, moving over the bridges on the canals. During the exhibition, a separate film program will be announced.

The Ed van der Elsken Estate is represented by Annet Gelink Gallery in Amsterdam and Howard Greenberg Gallery, New York.