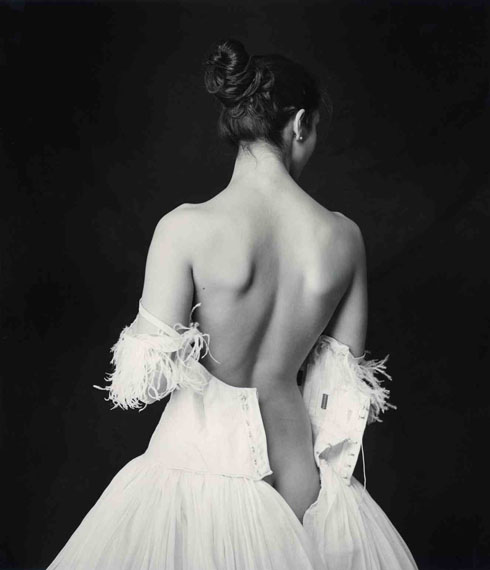 RUTGER TEN BROEKE (The Netherlands, 1944)
Expositions du 2/12/2010 au 5/12/2010 Terminé
KAHMANN Gallery Lindengracht 35 1015KB Amsterdam Pays-Bas
"DUTCH NUDES" Photographers:
ED VAN DER ELKSEN (The Netherlands 1925 - 1990)
Ed van der Elsken was born in Amsterdam in 1925. Inspired and shaped by his relationships, extensive international travels and work abroad, Van der Elsken was known as the "enfant terrible" of Dutch photography. A talented photographer and filmmaker, he documented his meetings with people in photographs and films for more than 40 years. He preferred to photograph striking individuals and would often attract the subject's attention before taking the picture. Many of his subjects therefore look straight into the lens. His first photography book, Love on the Left Bank, was published during his Parisian period in 1956 and instantly made him world-famous. Some 20 photography books followed. In 1988 Van der Elsken was diagnosed with cancer. He famously documented the progress of his illness on film, and died two years later.
SANNE SANNES (The Netherlands 1937 - 1967)
Sannes became renowned in the 1960s for his erotic sensibility and photographic approach to
women and seduction. He seemed to be obsessed by women, perhaps inspired by unrequited love. He experimented with all aspects of photography, such as the material, the developing process, even manipulating and damaging his negatives. In 1967, at the young age of 30, Sannes died in a car accident. Following his death, his work was left unattended for more then 40 years at his brother's house. Since 2006, the prints have gradually been introduced on the market. Although he had only been active for about eight years, Sannes' illustrious collection is held in similar regard to noted photographers like Gerard Fieret and Ed van der Elsken, who defined Dutch black-and-white photography in the 1960s. FOAM (Photography Museum Amsterdam) has hosted a large exhibition of Sannes' work. A documentary was made about his life and works. The Rijksmuseum Amsterdam published a study and examination of his work entitled: The Making of a Photobook: Sanne Sannes' Maquette for Diary of an Erotomaniac.
GERARD FIERET (The Netherlands 1924 – 2009)
GERARD FIERET (The Netherlands 1924 – 2009)
Fieret photographed everything that crossed his path: women, kids, animals, street scenes – even himself. He photographed spontaneously, without the use of artistic light or poses. The power and topicality of Fieret's pictures can be seen in the unconventional way he approached his subjects and the unusual, rough methods he used to develop and print his work. His experimentation with cropping, exposures, and retouching resulted in characteristic elements of his work: strong contrasts, spots of light, dark patches, and motion blur. In addition, his distinct use of signatures and copyright stamps form an inextricable part of Fieret's work. He believed it was compulsory to mark his photos in such an explicit way, so nobody could imitate his work.
Fieret's photographs reflect his vision of the world: playful and mischievous, yet raw and confrontational at the same time. Fieret's photographic works had long been underestimated until recent years. The cover article in the renowned American magazine Art and Auction and the homage in the international photography magazine Eyemazing have praised Fieret's work. The increasing success at auctions in Amsterdam and New York, and the current retrospective of his work in The Hague Museum of Photography reflect his growing popularity.
SCHILTE & PORTIELJE (The Netherlands '53 and '58)
SCHILTE & PORTIELJE (The Netherlands '53 and '58)?
Huub Schilte and Jacqueline Portielje have been working together as Schilte & Portielje since 1997. They are known for exploring the rich possibilities of the computer as an artistic medium, using it as a photography dark room and a drawing/painting tool. They prefer to work without a preconceived plan or subject and start a project by selecting fragments of images from a digitalized library they have accumulated over the years. Then, still independently from each other, they start to explore whether the selected image-fragments can be composed into a concept for a new piece. During this time-consuming process of transforming, drawing, painting, adding and subtracting, new possibilities and ideas are constantly generated. Schilte & Portielje frequently exchange the works in progress so one continues where the other has left off. It is an intuitive way of working in which they are equal, depending heavily on each other's critical vision. When an image-concept becomes established, they jointly develop it further, both technically and artistically. They deliberately work in black and white. They want their work to reflect the space between photography and drawing / painting. In addition, they value the contrasting combination of advanced computer techniques and the nostalgic feel of black and white images, which enables them to blur the lines between art and reality.
RUTGER TEN BROEKE (The Netherlands, 1944)
Rutger ten Broeke is internationally well known for his classical black and white nudes. Central to all of his work is his fascination with the (female) body in nature and the emotional relationship between the two. He is fascinated by the physical presence of the human being in the context of nature. Ten Broeke creates timeless, harmonious images with compositions that are usually perfect. His aesthetic concept combines beauty and purity with great technical skills, including making his own prints.
Ten Broeke published the book Nudes, worked as an editor and journalist for Foto Magazine, organized the first Enschede Fotobiënnale and founded Galerie F.32 in the late 80's. In collaboration with KAHMANN Gallery, he published an oeuvre book in 2009 that spanned works from his 40 year career.
WILLEM DIEPRAAM (The Netherlands, 1944)?
Willem Diepraam is the renaissance man of Dutch photography. He started to photograph, as a hobby, during his university days in the 1960s. Photography has remained a passion ever since. Diepraam originally worked for newspapers and weeklies, and was responsible for bringing photojournalism into the realm of art in the 1970s. Most of his work from that period leans on content or deals with social issues, notably the books Frimangron (1985), The Dutch Caribbean (1978) and Sahel (1981). Lima (1991) and Landschap aan Zee (1995) are highly personal, atmospheric books in which Diepraam found his form as an artist. In that capacity, he has operated with a great degree of freedom, concentrating on subjects that interested him, with disregard for trends and fashions. As a spin-off of his photography career he has also became widely known as a collector, curator, appraiser, and writer in the field of photography (e.g. Eva Besnyö, 1999).
MACHIEL BOTMAN (The Netherlands, 1955)?
It is a curious experience to look at a photograph and have the impression that the photo is meant for you personally. It unfolds before your eyes, like an unexpected present. This complimentary mystery is found in the world of Machiel Botman, according to Brigitte Ollier in Libération of October 8th 2004, after seeing the exposition Rainchild at the FNAC Forum des Halles. Machiel Botman's work is very personal, autobiographic, and often develops instinctively. He emphasizes the power and meaning of a photographer and his own personal relation to the person or place portrayed. Botman creates warm and intimate photos and captures images that may have gone unnoticed. Botman has published four books: Heartbeat, Rainchild, Drifting and Menabo. He has also been active in the field of teaching and curating on both national and international level.