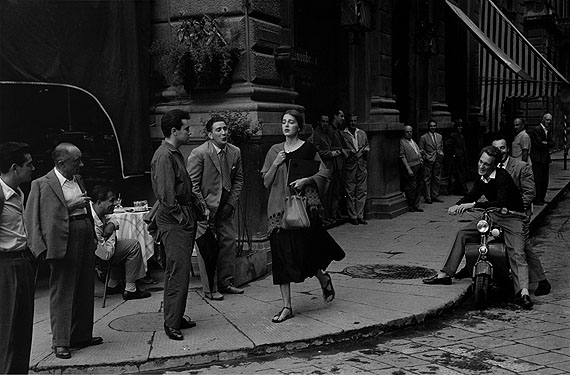 Ruth Orkin, American Girl in Italy…(Florence), 1952 Copyright 1952, 1980 Ruth Orkin
Expositions du 22/10/2010 au 10/12/2010 Terminé
Kunsthandel Jörg Maaß Rankestraße 24 10789 Berlin Allemagne
In the context of the 4th European Month of Photography Berlin, which is presented for the first time as a themed event, the Kunsthandel Jörg Maaß is pleased to announce the exhibition "Street Photography. Selected Works from Six Decades".

The exhibition centers around vintage prints which document life on the streets through the decades. This wide overview begins in Europe in the early 1930s with selected black and white photographs from Ilse Bing, Bill Brandt, Brassai, Cartier-Bresson and others.

American Street Photography of the 1940s to the 1970s is represented by works from Harry Callahan, Louis Fauer, Andreas Feininger, Robert Frank, Leon Levinstein, Ray K. Metzker, Erika Stone and Weegee. The exhibition closes with color prints of iconic examples of Street Photography, such as "Madison Avenue & 60th Street, New York City" by Joel Meyerowitz and "Woman wearing large sunglasses" from the series "Subway" by Bruce Davidson.