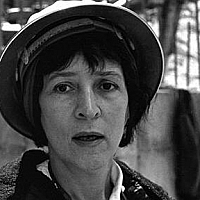 Helen Levitt
#Musee
#Incontournable
Helen Levitt est une photographe née en 1913 à New York où elle vit encore actuellement.

Depuis les années 40, Helen Levitt photographie les rues de Spanish Harlem, Brooklyn, East Village, Lower East Side et "Gardment District" de Manhattan. Pour ses premiers clichés noir et blanc elle utilise un appareil photographique 35 mm en mains libres, enregistrant des scènes de rue, des dessins griffonnés à la craie sur les murs et des d'enfants jouant dans les rues. Bien que privilégiant une approche documentaire, dans le sillage de Walker Evans et Henri Cartier-Bresson, Helen Levitt, par la fluidité de son style, laisse transparaître dans ses oeuvres la fraîcheur et la spontanéité de la vie quotidienne.
En 1960 le Guggenheim lui permet de produire ses premiers travaux couleur. Reprenant ses thèmes de toujours, Helen Levitt investit alors ses clichés de teintes pâles et saturées. Ici elle ne s'intéresse pas à la couleur pour elle-même pas plus qu'à son pouvoir de séduction mais à l'idée que celle-ci pourrait soutenir cette impression de vie qui caractérise son travail. Il y a chez elle comme des accents argotiques qui valorisent par inadvertance la justesse de son regard.
Helen Levitt a réalisé deux films (In the Street en 1944 et The Silent one en 1946) et travaillé au montage de plusieurs autres.