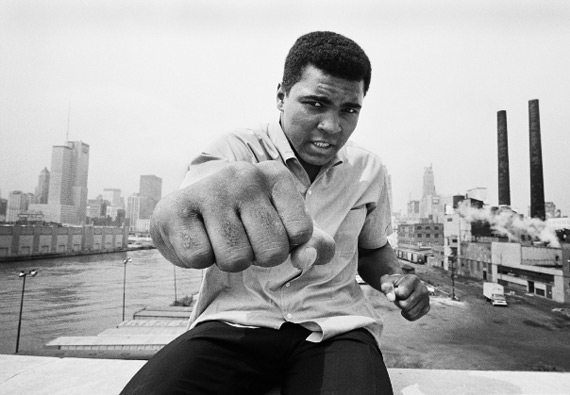 Expositions du 29/04/2010 au 29/05/2010 Terminé
Atlas Gallery 49, Dorset Street W1U 7NF London Royaume-Uni
ICONIC PORTRAITS OF POWERFUL AND INFLUENTIAL FIGURES OF THE LAST 60 YEARS - EXHIBITION OF RARE VINTAGE AND SIGNED PHOTOGRAPHS
Atlas Gallery announce an important new exhibition of rare portraits by some of the most notable photographers of the last six decades. Curated personally by the gallery's director Ben Burdett, the subjects have been chosen from the fields of politics, sport, the arts, entertainment and science.
The selection of works on show attempts to examine the way in which the camera portrait not only provides the individual with a visual memory and reference for the subjects of the portrait but in some rare cases, when reproduced enough times, provides an almost universal human record.The works chosen have been selected not only for the status and influence of the subjects but for the importance of the image. Thus the faces on the walls of the gallery are not intended to be a definitive selection of the most significant figures of the last sixty years of our history but a survey of some of the most memorable photographic portrait images of our Times. In some cases the image may have become almost more iconic than the individual. Thus, for instance, we have Alberto Korda's Che Guevara but no Fidel Castro.
From politics and society, JFK hangs beside Martin Luther King and Eve Arnold' acclaimed portrait of Malcolm X, while Churchill, Mao and Nixon share wall space next to Mother Theresa and Nelson Mandela. From more recent years, the exhibition also includes Nadav Kander's New York Times commissioned portrait of Obama and Platon's supremely confident Bill Clinton.

The Arts are well represented with works by Karsh (Hemingway), Halsmann (Hitchcock), Burri's Picasso, Weegee and Halsmann's Dali and from film, classic images of James Dean and Marilyn Monroe by Roy Schatt (the famous jumper series) and Bert Stern (the last sitting), respectively. Amongst others the worlds of sport include Mohammad Ali and Jess Owens and the worlds of entertainment are represented by the inevitable faces of Jagger, Lennon (also shown in the Robert Freeman's rare album cover image for the album "Beatles for Sale"), Kate Moss (Testino) and Frank Sinatra.

As much a survey of photographic history as a survey of history itself, this ambitious exhibition brings together a powerful selection of images of icons, avatars (and some villains) from our recent history and offers a rare chance to see them assembled in one place.
Crédit Photos : Thomas Hoepker, Muhammad Ali, Chicago, 1966 © Tomas Hoepker / Magnum Photos, Platon, President Bill Clinton, 2000 © Platon