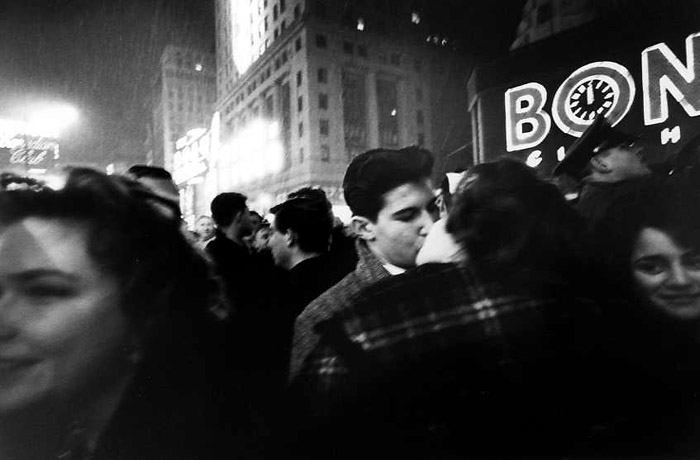 Expositions du 9/7/2009 au 28/8/2009 Terminé
Yossi Milo Gallery 245 Tenth Avenue 10001 New York États-Unis
Yossi Milo Gallery is pleased to announce Sexy and the City, a summer group show on view from Thursday, July 9, through Friday, August 28, 2009.

Sexy and the City shows the alluring, romantic and some­times scandalous side of New York's people and places. Capturing private, intimate moments and blatant displays of sexuality, these photographs span the decades from the 1940s to the present day, taken in landmark locations like the Brooklyn Bridge and in the quiet, out-of-the-way corners of the city.

From Alfred Eisenstaedt's iconic image of a kissing couple in Times Square on V-J Day, 1945, to Nan Goldin's drag queen on an anonymous New York street in the 1990s, from Garry Win­ogrand's topless woman surrounded by a crowd in Central Park to the homosexual couples photographed by Alvin Baltrop in the seclusion of the West Side piers, Sexy and the City celebrates diverse views of New York City passion.

Among the artists featured in the exhibition are Merry Alpern, Will Anderson, Diane Arbus, Alvin Baltrop, Bruce Davidson, Al­fred Eisenstaedt, Louis Faurer, Leonard Freed, Nan Goldin, Gail Albert Halaban, Charles Harbutt, Lisa Kereszi, André Kertész, Arthur Leipzig, Leon Levinstein, Joel Meyerowitz, Duane Michals, Tod Papageorge, Frank Paulin, Arthur Tress, Ryan Weideman, Garry Winogrand, and Weegee.

This show is part of the citywide exhibition NEW YORK PHOTOGRAPHS. A number of galleries specializing in photography have joined forces to present over a dozen gallery shows this summer featuring views and perspectives on New York City. Other participating galleries include Bonni Benrubi, Danziger Projects, Deborah Bell, Edwynn Houk, Howard Greenberg, Hasted Hunt, Janet Borden, Laurence Miller, Pace/MacGill, Robert Mann, Julie Saul, and Yancey Richardson.