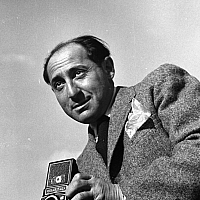 Alfred Eisenstaedt
#Photographe
#Incontournable
Alfred Eisenstaedt est un photographe et un photojournaliste américain d'origine allemande.
Alfred Eisenstaedt est né le 6 décembre 1898 à Dirschau, en Prusse-Occidentale, nommée Tczew actuellement en Pologne. Il est mort le 23 août 1995 à Oak Bluffs, dans le Massachusetts.
Photographe exceptionnel, qui a couvert près d'un siècle de photos uniques et intemporelles.

D'origine allemande, Alfred Eisenstaedt est envoyé au combat de 1916 à 1918 et revient blessé aux deux jambes. Passionné de photographie, il en fait sa profession en 1929 et s'intègre au dynamique photojournalisme allemand. Durant les années 1920 et au début de la décennie suivante, il se trouve particulièrement influencé par Erich Salomon, l'un des pères du documentaire photographique.

Alfred Eisenstaedt a eu son premier appareil photo à l'âge de 14 et a vendu sa première photographie en 1927 pour le journal Der Weltspiegel à un moment où le photojournalisme était encore à ses balbutiements.
Il fut bientôt engagé avec trois autres photographes, Margaret Bourke-White, Thomas McAvoy et Peter Stackpole par le fondateur Temps Henry Luce, pour un secret start-up connu seulement comme "Project X" Après six mois d'essais le risque de mystère, il créée comme le magazine LIFE, le 23 Novembre 1936.

Eisenstaedt manie avec talent son appareil Leica 35 mm. Au début des années 1930, ses photographies sont publiées dans de nombreux magazines européens. Il couvre l'ascension d'Adolf Hitler et, en 1935, réalise une série de clichés sur l'Éthiopie juste avant son invasion par l'Italie. La même année, il émigre aux États-Unis. En avril 1936, ce pionnier du reportage journalistique est l'un des quatre premiers photographes de Life pour lequel il réalise la couverture du second numéro. Il devient le photographe phare du magazine avec quatre-vingt-dix couvertures et la publication de deux mille cinq cents reportages.

Photographe des rois, des dictateurs et des stars de cinéma, Eisenstaedt est aussi la mémoire des gens ordinaires surpris dans les situations de la vie quotidienne. Selon ses propres dires, son objectif est de trouver le moment juste, celui qui raconte une histoire, et de le capturer.

Plusieurs anthologies de ses photographies ont été publiées, parmi lesquelles : Alfred Eisenstaedt. Witness to Our Time (1966, « Alfred Eisenstaedt. Témoin de notre temps »), People (1973, « Gens ») et Eisenstaedt : Germany (1981, « Eisenstaedt : Allemagne »). Il est également l'auteur d'une autobiographie : The Eye of Eisenstaedt (1969, « L'œil d'Eisenstaedt »).

-----
Born in 1898 in West Prussia, Alfred Eisenstaedt was given his first camera at the age of 14 and sold his first photograph in 1927 to the newspaper Der Weltspiegel at a time when photojournalism was at its very infancy. Narrowly escaping the Holocaust in Europe Eisenstaedt emmigrated to the United States. He was soon hired along with three other photographers, Margaret Bourke-White, Thomas McAvoy and Peter Stackpole by Time founder Henry Luce, for a secret start-up known only as «Project X.» After six months of testing the mystery venture, it premiered as LIFE magazine on November 23, 1936.