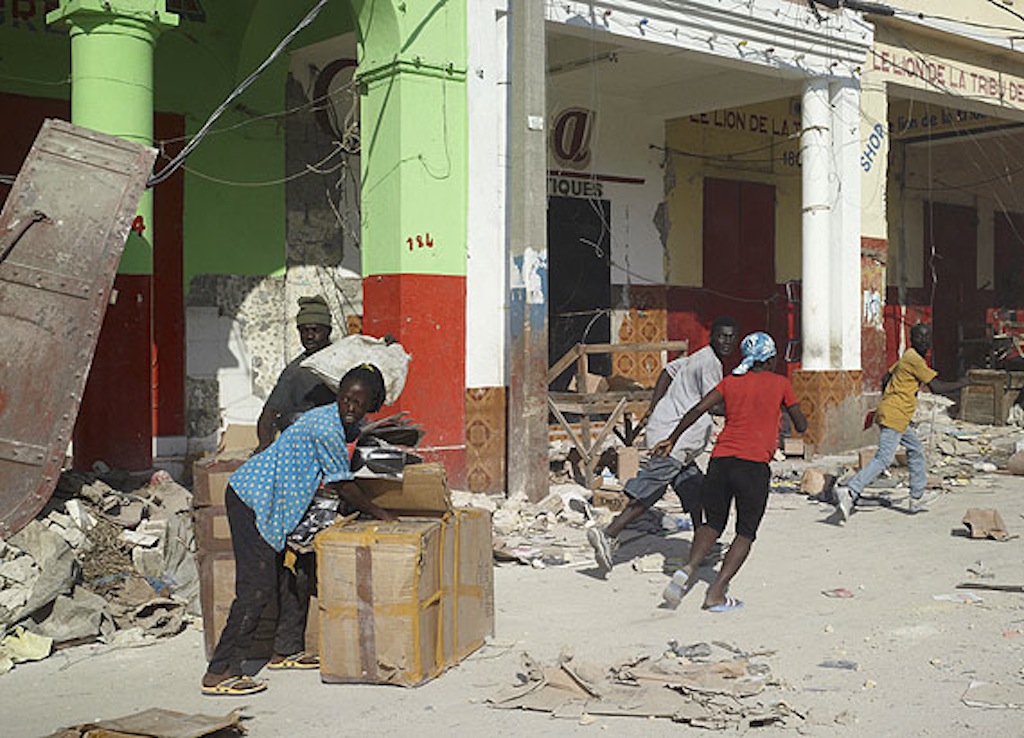 © Luc Delahaye Les Pillards Series: Various works: 2008 – 2011 17 January, 2010 Port-au-Prince, Haiti
Expositions du 22/3/2013 au 16/6/2013 Terminé
Huis Marseille Keizersgracht 401,The Netherlands 1016 EK Amsterdam Pays-Bas
Shortlist Robert Adams (United States), Daniel Beltrà (Spain/United States), Mohamed Bourouïssa (Algeria/France), Philippe Chancel (France), Edmund Clark (United Kingdom), Carl De Keyzer (Belgium), Luc Delahaye (Winner, France), Rena Effendi (Azerbaijan), Jacqueline Hassink (The Netherlands), An-My Lê (United States/Vietnam), Joel Sternfeld (United States) and Guy Tillim (South Africa).

The Prix Pictet was launched in 2008 as a prize for photography and sustainability. Created by the Geneva-based private bank Pictet & Cie. In just four years the Prix Pictet has gained an international reputation for recognising outstanding photographic series that communicate messages of global environmental significance. Exhibitions of work by the shortlisted photographers from the four editions of the award have been shown at locations all over the world, and have so far attracted around four million visitors. The aim of the Prix Pictet is to present work that is not only of exceptional photographic quality but also to confront its audience with some of the most urgent social and environmental challenges the world is facing today.


The themes of the first four editions of the prize were Water, Earth, Growth and Power. The theme for the fifth Prix Pictet will be announced at Les Rencontres d'Arlesphotography festival in July 2013.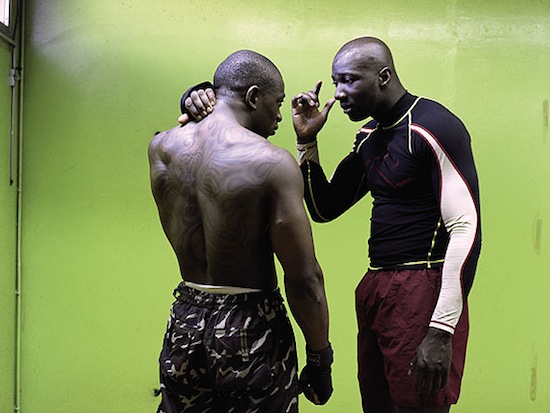 © Mohamed Bourouissa La Fenêtre Series: Périphérique 2005 Paris, France


The Prix Pictet has two elements: the prize of CHF 100,000,- awarded to a shortlisted photographer and the Commission, in which a nominated photographer is invited to undertake a field trip to a region where the Bank is supporting a sustainability project. This year the commission was given to Simon Norfolk (United Kingdom).

Jacqueline Hassink, Luc Delahaye, Carl de Keyzer and Guy Tillim are all old friends of Huis Marseille; we have both collected and exhibited their work in recent years. For Huis Marseille this award was a perfect occasion to bring the Prix Pictet Power exhibition to Amsterdam, and also to seize the opportunity to examine the photography award phenomenon, which is a remarkable one in many respects: to look closely at what it does and what it means.
Besides the high quality of photography that the Prix Pictet stands for, Huis Marseille has two other reasons for getting involved. Firstly, photography awards have quickly started becoming very important. Secondly, Prix Pictet shortlists have included many photographers with whom we have worked in recent years, whether in exhibitions or for the collection. For the last three themes these were Lynn Davis, Susan Derges, Carl De Keyzer, Edward Burtynsky (3x), Stéphane Couturier, Andreas Gursky, Naoya Hatakeyama, Thomas Struth and Guy Tillim. For the present theme, Power, whose nominees include Luc Delahaye, Jacqueline Hassink – the first Dutch photographer on the shortlist – Carl De Keyzer and Guy Tillim, they make up 40% of the list. Is this an intriguing coincidence, or a fascinating glimpse of an overlap between exhibition programmes and photography awards? At any rate, it prompts us to take a closer look at photography prizes and at the involvement of jury members and museum curators in those prizes.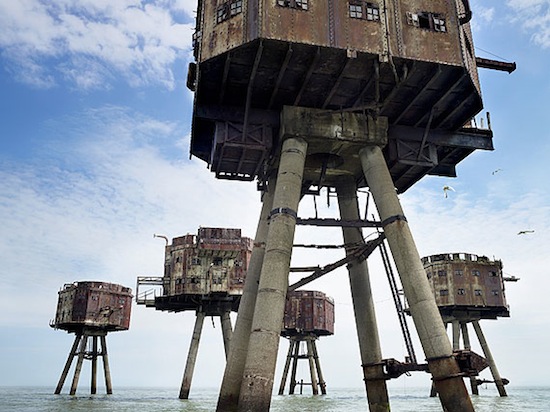 © Carl De Keyzer England Series: Moments Before the Flood 2009 England, United Kingdom


How would things stand with the quality of photography, and public interest in it, if it were not for the fact that from the start prizes were awarded to the photographers who excelled in their profession? It would seem that then, as now, prizes strongly promote the public awareness and careers of photographers. Museums, too, have been eager to associate their names with such prizes. There is at least one difference, however, past prize money usually came from businesses that worked in photography themselves; the Hasselblad Prize and Canon's support for World Press Photo are two examples. The Prix Pictet and the Deutsche Börse prizes show this role being taken over by other – in this case, financial – firms.

Although every prize has its own objectives and regulations, the basic principle is straightforward: votes from expert jury members are counted to create an evaluative ranking to which the awards correspond. It could perhaps be compared with a sports match, albeit that the results are not measured in terms of times, efforts, or points, but evaluated on the basis of curricula and opinions. Besides the money and / or honour it brings, winning a prize is a matter of immediate public and publicity importance. It is the public crowning of a single work; a series of photographs, as in the Prix Pictet; or of an entire oeuvre.

The creation of a museum exhibition employs a very different process. Positions are compared, certainly, but this is done internally, within the context of the arts in general, and definitely not in the form of a competition. The elements of spatial presentation and aesthetics also play an important role, as does the question of social relevance. Although this naturally depends on the type of exhibition, by and large the principal difference is that museums work more objectively and according to a long-term vision. Specific interests, and in particular dynamics, are involved, ones closer to the working practice of the photographer and / or artist, and this is a very different context compared to the rapid, socially motivated decisions by which juries compare submitted works.

'Art is not a contest,' as Dutch artist Daan van Golden is widely quoted as saying (having borrowed the quote himself from Dutch poet Adriaan Roland Holst). By the nature of things he is entirely correct: creating a work of art is a very personal matter. However, the moment the work leaves the painter's atelier or the photographer's studio it is subject to the world's daily game of 'likes' and 'dislikes'. The competition of competences is a historical given, and the Prix Pictet brings a dynamic and publicity that is a good fit with the times. Nowadays museums are happy to collaborate in this process. It is no accident that one domain overlaps so much with the other; curators regularly work as jury panel members, propose nominees, advise on new initiatives, and so on. The important thing is that this promotes an interdisciplinary discussion of the meaning and value of photography from which everyone can benefit.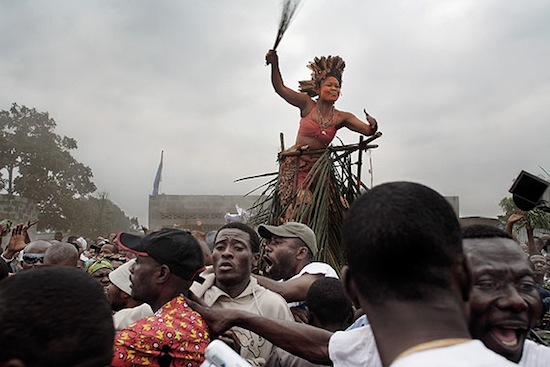 © Guy Tillim
A traditional dancer and crowd salute Jean-Pierre Bemba as he walks to a rally from the airport, Kinshasa, July 2006.
Series: Congo Democratic July 2006 Kinshasa, DRC