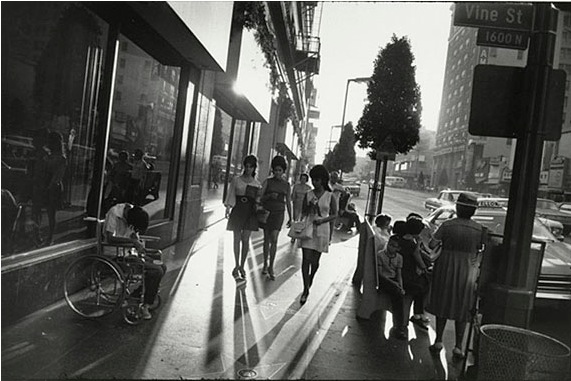 Los Angeles, California, 1969, On permanent loan from Siemens AG, Munich, to the Sammlung Moderne Kunst since 2003 © Estate of Garry Winogrand
Expositions du 2/3/2012 au 30/9/2012 Terminé
Pinakothek der Moderne Barer Str. 40 80333 München Allemagne
American photography forms an extensive and simultaneously top-quality focal point in the collection, of which a selected overview is now being exhibited for the first time. The main interest of young photographers, who have been examining changes in political, social and ecological aspects of everyday American life since the late 1960s, has been the American social landscape. Oscillating between individual world views, analytical stock-taking and conceptual strategies, they have developed new stylistic devices that define a pictorial style perceived as genuinely American.
Whereas Lee Friedlander, Garry Winogrand, Robert Adams, Lewis Baltz and Larry Clark, who are now considered classical modern photographers, have remained true to black-and-white photography, William Eggleston and Stephen Shore in particular have established colour photography as an artistically independent form of expression. The exhibition brings together around 130 works that, thanks to the Siemens Photography Collection and through acquisitions, bequests and donations, are now part of the museum's holdings. 'true stories' covers a spectrum from the intentionally subjective street photography of the 1960s and the emphatically objective landscape studies of the so-called New Topographics movement, to the conceptually structured works of John Baldessari and Dan Graham, concluding the tour with the artist Zoe Leonard's New York cycle, created just a few years ago, that is both an anthem and a swan sang to analogue photography.

'A new generation of photographers has directed the documentary approach toward more personal ends. Their work betrays a sympathy for the imperfection and frailties of society. Their aim has been not to reform life but to know it.' With the exhibition New Documents in spring 1967, John Szarkowski, the influential curator of photography at the Museum of Modern Art in New York, rang in a new era in American photography. Those photographers represented, including Lee Friedlander and Garry Winogrand in addition to Diane Arbus, stood for a change in attitude within documentary photography that was conditioned exclusively by the subjective viewpoint of an individual's reality. The object of photographic interest lay in the American social landscape and its conditions. It was less concerned with the natural landscape and its increasingly cultural reshaping than with the urban or urbanised space and how people move within it. In so doing, the New Documentarians rejected any obviously explanatory impetus, turning instead to the everyday and commonplace.