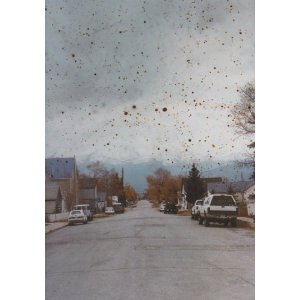 The Great Unreal is a photography book by the swiss artists Taiyo Onorato & Nico Krebs, published by editor Patrick Frey in 2009. Both the photographs, the sequence and layout make it a very unusual book, that first seem to tell with pictures a road trip around North America, but leads you far from what you expect.

Numerous American and foreign photographers went across the country before Onorato and Krebs, taking pictures of its landscapes and people. Evans, Frank, Eggleston, Sternfeld, Shore… they shaped the way we see America, with its rich and powerful imagery. The Great Unreal is at the same time another point of view and an attempt to question these representations.

By showing desert landscapes, weird lightings and hazes and almost no human presence, the artists make us ask ourselves what is real about the America we know from pictures. They even show us a strange device that seems to allow them to create the visual illusion of a road wherever they want, questioning the principle of "road trip" itself. In fact, if their trip is initiatory too, the frontier it targets is the one between reality and fiction.

Apart from all these powerfully meaningful questions is the quality of the pictures themselves, simultaneously daily and unreal, mysterious and clear. The variety of pictures types (color, black and white, stippled or not...) and the spontaneity of the sequence make it a very powerful gesture, a sometimes humorous journey across America with an auteur point of view as well as a random exploration of what is possible today in a travel photography book.

The Great Unreal seems to unveil a parallel dimension we usually miss because of our inattention to details or quiet places ; it stands as an invitation to travel with our imagination and create, as they manage to do, the feeling of an alien presence observing us and trying to interact. All elements, rocks, threes, billboards and still cars appear as coming to life, enliven by some spell, taking the place of the human beings that are missing from this big nowhere. With no text at all and perfectly crafted, the book offers its pictures as a gift from elsewhere, a testimony from outer space that would say "been there, saw that", a supernatural full-page printed showcase from American no man's lands.

Nice to meet you, Taiyo Onorato & Nico Krebs.

Together, you are known as the Swiss artistic duo TONK. Born in 1979, you have studied Photography in Zurich and started your collaboration in 2003. After winning the Hyères Festival of Photography in 2005, you have had exhibitions all over the world (Zurich, New York, Arles…) and won several photography awards. You've published a few books including The Great Unreal, a mysterious road trip photo book in America we would like to talk about.

- Can you first briefly introduce yourselves and sum up the birth of the TONK duo ?

We were both born in Switzerland 1979, went quite different ways until we met in the same school, the University for Art and Design Zurich. We met because we both spent a lot of hours in the darkroom and realized we were interested in similar ways of working with Photography. We became friends and started to work on projects together. iIt went well and that was almost 7 years ago..
TONK is just the name of our website by the way, we normally use both our names.

"We want to talk about The Great Unreal. It's a photo book which first seems to present photos of a trip, a road trip to be more specific, as roads are visible in almost every picture. But the atmosphere is very peculiar : almost no human being or town, strange lightings and colors, hazes, the feeling of an unreal presence…It's almost as if the images weren't taken by human beings. It's like an extraterrestrial road trip."

- How long did this project last ? (from the "idea" to the publishing of the book)

The project started when we got a residency grant from the city of Zurich in 2005 to go work and live in New York for a year, right after we graduated from university. We started making long journeys across the country. In the end we spent around half a year on the road and stayed in northern California for while to complete the work. Then we worked with our friends, the graphic designers of HI on the sequence and layout. It took several weeks with breaks in between to get to the final book. Once we spent 2 weeks on a small island in Norway to have complete isolation to concentrate on the book.

- Which places did you visit – did you define a meaningful itinerary, or was it a random exploration ?

It was something in between. We always destinations in our heads, like Reno, Las Vegas, the Grand Canyon etc. But how we got there was on rather random streets.

- The pictures ordering in the book also conveys this central idea of "unreal", because we don't always see the relation between them. How did you decide the chain of the images in the book ? Is it a narrative sequence ?

Its a very intuitive sequence. We wanted to keep the spirit of a journey, make it look like a road trip with stops and go's and encounters and long boring drives.

"Another part of the unrealistic feeling comes from the pictures themselves. First, they are of various kinds : black and white, color, stippled…It doesn't look like a usual journey slideshow, in which all the pictures are of the same style and image type. We don't feel like if a precise person would have taken all the pictures."


- When did you decide the effects to apply to each picture ? Did you know from the beginning what you wanted to show (a car surrounded by a halo, a black and white landscape..) or did the idea come in front of the scene, or even after ?

Again, its a combination of concepts. Some photographs were in our minds before we started driving, others were found on the spot. Some pictures were good but we knew we had to add something to be more precise. So we also worked with prints and re-photographed them. This mostly happened on the last trip to northern California.

- The last page of your book specifies : "without the use of digital manipulation" : what material (cameras…) and what kind of image treatments did you use ?

We used a 4x5 inch Linhof and a 4x5 Littman. And a Mamiya 7. All images were photographed using Negative Material, either Colour or Black and White.


- One picture shows a kind of tripod which seems to allow you to "create" roads wherever you want. How was it designed and what was the purpose using it ?

When you are on a road trip, Roads is what you primarily see. Its a symbol that stands for many things, especially in America. That's why we started to construct our own roads. The tripod construction becomes a sculpture in this one photograph to dismantle the illusion and let the construction become the symbol itself.

- Instead of human beings, almost absent in the book, we discern the presence of something weird and sometimes extraterrestrial-like : hazes that look like UFO lights, light spots that seems to be dozens of eyes in the dark…did you want us to feel that way and is that part of the story ?

The book has no Introduction text, because we want the photographs to stand by them selves and let the viewer create his own story.


- The book is a continuation of your artistic approach ; however, were you influenced by other projects ?

American Photography, from Robert Frank to Sternfeld to Shore, always was of great Influence, since our days at school. This project stands in relation to all the great Photographers that shaped our perception of America.


- And finally, on what are you currently working, the release of your book "made in Italy" ?

We are in the final days of our 3month residence in Melbourne, Australia. The show with work that we have done here is about to go on the walls at the Wardlow Residency Gallery and we will go back to Berlin in a couple of days. We have 2 shows in June, one in Düsseldorf, the other in Basel. Then another one in a gallery in Berlin in August.
The book MADE IN ITALY was made on the occasion of our big solo show in Florence in February.


Antoine Soubrier / Actuphoto