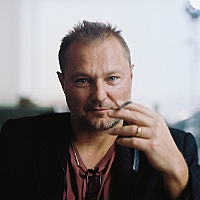 Juergen Teller
#Photographe
#Incontournable
Juergen Teller est un photographe de mode allemand né en 1964.

Juergen Teller is a fashion photographer and artist who was born in Erlangen, Germany in 1964. He is an heir to William Eggleston's photography style. Juergen studied at the Bayerische Staatslehranstalt for photography in Munich, Germany before moving to London, England in 1986.

His fashion photographs have been featured in The Face, Vogue (U.S., France, U.K., Italy), Another, Index, W Magazine, Self Service, Details, Purple, i-D, among others. Juergen's work in the listed influential international publications nurtured his own photographic sensibility which marked by his refusal to separate the commercial fashion photos and his most autobiographical un-commissioned work. His work has been exhibited worldwide in solo exhibitions at the Foundation Carier pour l'art in Paris, Munchner Fotomuseum in Munich, Museum Folkswang in Essen, Galleria d'Arte Moderna in Bologna, Frans Hals Museum in The Netherlands, Interlieth House in Edinburg, and the Kuntshalle Mannheim. The inclusion of Teller's work in important group exhibitions such as Weird Beauty: Fashion Photography Now at ICP in New York, Mode As Muse at the Metropolitan Museum of Art, Click Double Click at the Haus der Kunst in Munich, Street & Studio at the Tate Modern in London, A Poem About an Inland Sea in the Ukrainian Pavilion at the 52nd International Venice Biennale, and Fashioning Fiction at the Museum of Modern Art in New York City reiterates that he is regarded as one of the most influential fashion photographers working today. In 2003, Teller was awarded the Citibank Prize and in 2007 was asked to represent the Ukraine as one of five artists at the 52nd Venice Biennale.


Juergen as collaborated with Marc Jacobs on his advertising campaigns for the past eleven years. The work has been collected into a book entitled "Marc Jacobs Advertising 1998-2009" published by Steidl. Teller has also had long collaborations with other designers and fashion houses around the world including Helmut Lang, Yves Saint Laurent, and Vivienne Westwood. Recently, he has worked for Céline's creative director Phoebe Philo and the advertising campaign.