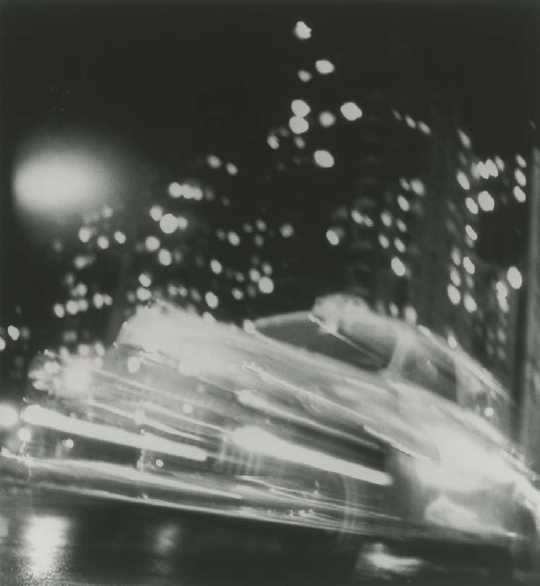 Taxi, New York 1947 © Ted Croner courtesy Howard Greenberg Gallery, NYC
Expositions du 17/4/2008 au 7/6/2008 Terminé
Michael Hoppen Gallery 3 Jubilee Place SW3 3TD London Royaume-Uni
Alexei Brodovitch - Diane Arbus - Lee Friedlander - Lisette Model - Louis Faurer - Richard Avedon - Robert Frank - Sid Grossman - Ted Croner - Weegee - William Klein

Between the late 1930s and the early 1960s a group of young photographers living and working in New York City redefined street photography.
This group of artists became known as The New York School.
These photographers documented the post war energy and exotic chaos of New York City as it evolved from the crisis years of the Great
Depression and the Second World War through to the social turbulence of the early seventies. Most of them worked on magazines but it was their personal work that stood them apart.
They captured the choreography of the city from the sidewalks of downtown, to the intensity of Times Square, the isolation and elegance of the architecture and the mass of humanity at Coney Island. Many of the New York School identified with the values of film noir, stylish low-key black and white images with a certain moral ambiguity. Their style utlilised the methods of documentary journalism, small cameras, available light and a sense of the fleeting and candid and yet they rejected the anecdotal descriptiveness of most photojournalism. Many had attended workshops at Richard Avedon's studio often taught by their mentor Alexei Brodovitch, who had totally re-invented photography, design and layout within the confines of Harpers Bazaar magazine. Many went on to become legendary in their chosen fields of photography.
"Photography is the art of the split second. Speed, the fundamental condition of our present day activities, is its power. The photographer works fast within the second he has to see, to select and to act. The small camera is his ideal too. Its art value is enhanced by qualities which have been variously described as journalistic, documentary, candid: it is the means of detecting and revealing the reality surrounding us." Lisette Model.