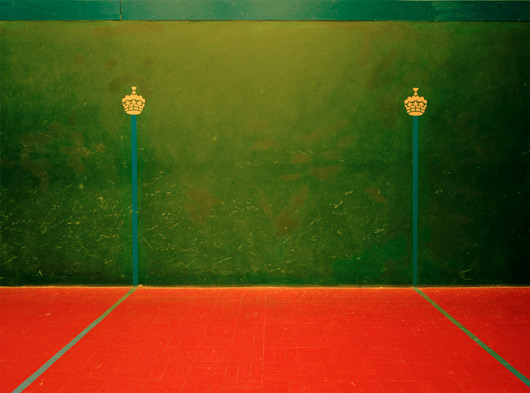 Elliott Wilcox
Expositions du 29/9/2009 au 9/12/2009 Terminé
FOAM - Fotografiemuseum Amsterdam Keizersgracht 609 1017 DS Amsterdam Pays-Bas
The exhibition PRUNE – abstracting reality focuses on the complex but intriguing relationship between realism and abstraction in contemporary photography. The exhibition includes only photographic work that is based on reality but which depicts this reality with a greater or lesser degree of abstraction. On show in the exhibition is work that first and foremost can be appreciated for its abstract, formal qualities, such as form, colour and composition. Only afterward does the viewer recognise the subject rendered in the work. Then the viewer becomes aware of an underlying story and the concept employed by the photographer. Usually it is the information in the caption which compels the viewer to relate to the work in a new way.
The exhibition emphasises that abstraction of reality is always present in photography and that there often is an underlying story which only reveals itself indirectly. The exhibition includes work by Roger Ballen, Walead Beshty, Adam Broomberg & Oliver Chanarin, Lisa Oppenheim, Julian Faulhaber, Luke Gilford, Idris Khan, Thomas Ruff, Horacio Salinas and Elliott Wilcox. It has been produced by guest curator Kathy Ryan, photo editor of The New York Times Magazine, in cooperation with Foam.

A photo can never simply be equated with the image of reality it represents. After all, a photo in itself is an object that represents a reality entirely of its own. The image shown in a photo is not reality itself, but always a fundamental abstraction of it. Yet, photography has a direct relationship with perceptible reality for many and therefore can be used for many aims: to express something about that reality, for journalistic purposes or even as supporting material in a legal case. Nevertheless, since the beginning of photo history, photography has for many been a pre-eminent medium for focussing on the tension between reality and abstraction. To this end, some have focused on pure form studies; others have consciously maintained a recognisable, but very measured degree of realism.

Recently, more and more contemporary photographers and visual artists have accepted the tension between the abstraction and reality which is intrinsic to photography. Some arrive at forms of abstraction through the specific use of framing when recording a subject. Others go much further and treat the material based on reality so that direct identification with the subject becomes ever more difficult. The conceptual foundations which increasingly make use of divergent forms of abstraction within photo work are also extremely diverse: ranging from an awareness that photography can only to a very limited degree say something about today's current complex reality – and do this through focusing on the complexity of our observation – to criticism of a heavily digitalised image culture in which images can actually be reduced to abstract data.

This exhibition is made possible with the support of the Mondriaan Foundation.