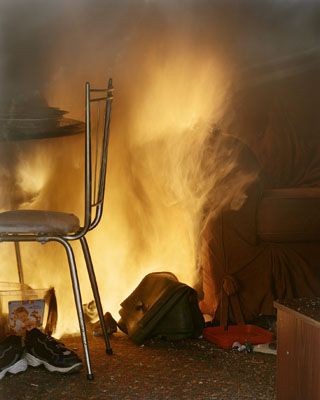 Expositions du 25/9/2009 au 17/1/2010 Terminé
Centro di Cultura Contemporanea Strozzina (CCCS) Palazzo Strozzi, piazza Strozzi 50123 Firence Italie
The exhibition, the idea for which came from a CCCS project that availed itself of the scientific advice of Brett Rogers (director of the Photographers' Gallery, London), Luminita Sabau (director of the DZ Bank collection of contemporary photography in Germany), Martino Marangoni (director of the Fondazione Marangoni, Florence) and Franziska Nori (project director with the CCCS), will be focusing on the meaning of the term "reality" in contemporary artistic research, as it explores different ways of visually representing the world in the ambiguity that lies between the real and the verisimilar, the concrete and the apparent, the present and the past.

Several different scientific disciplines have already defined a paradigmatic change when they contend that the "real world" does not exist as an independent category, merely as a projection or a construction by the individual; and this, even though in daily life we still tend to raise concepts of reality and truth to the lofty rank of objective facts, on which we then base our actions and our beliefs.

Photography and video art have always been based on the conflict between recording reality and, at the same time, becoming themselves a falsification of that reality. Today, with the spreading popularity of easy-to-use digital technology and the massive dissemination of images through the mass media and the Internet, that ambiguity has if anything increased, pushing the conflict between appearance and reality to its outer edges and demanding that the spectator play an active role in defining what he or she is seeing as real.

The exhibition presents the work of 23 international artists - Olivo Barbieri, Sonja Braas, Adam Broomberg & Oliver Chanarin, Gregory Crewdson, Thomas Demand, Elena Dorfman, Christiane Feser, Andreas Gefeller, Andreas Gursky, Beate Gütschow, Osang Gwon, Tatjana Hallbaum, Ilkka Halso, Robin Hewlett & Ben Kinsley, Rosemary Laing, Aernout Mik, Saskia Olde Wolbers, Sarah Pickering, Moira Ricci, Cindy Sherman, Cody Trepte, Paolo Ventura and Melanie Wiora – who use photography and video-art as the tools of their trade, manipulating our perception of the visible world and building new models of reality.

The exhibition is accompanied by a catalogue with entries by James der Derian (professor of International Studes at Brown University), Harald Welzer (Center for Interdisciplinary Memory Research, University of Essen), Elena Esposito (professor of Sociology and Communication Sciences at the University of Modena) and Maria Janina Vitale (art historian, with a specialization in contemporary photography).