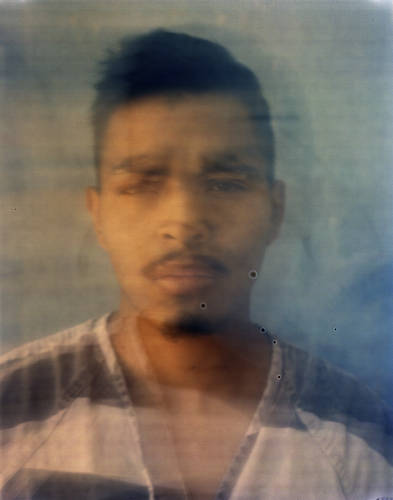 Portraits of undocumented Latin American immigrants inmates in Maricopa County's Tent City Jail in Phoenix, Arizona. In 1993 Maricopa County Sheriff Joe Arpaio set up a "Tent City" as an extension of the Maricopa County Jail in an effort to tackle over-crowding without building a new jail. All inmates in Tent City are required to wear pink underwear and old fashioned striped jump suits.

Since 2006 'America's Toughest Sheriff' as Arpaio likes to be called, has increasingly focused energy on the undocumented Latin American community in Maricopa County. The County Sheriff's office has approximately 162 federally trained 287(g) officers. Under 287(g), ICE (Immigration and Customs Enforcement) provides state and local law enforcement with the training and subsequent authorization to identify, process, and when appropriate, detain immigration offenders they encounter during their regular, daily law-enforcement activity.

If an undocumented person is convicted of a crime it is quite possible they serve their jail time in Tent City's O Yard. The O Yard houses the many of the undocumented prisoners who have been convicted of a crime in Maricopa County. Arpaio's office chooses to ensure that undocumented immigrants who are convicted of a crime serve their time before they are they turned over to federal immigration authorities to face immigration proceedings. Tent City is a medium security facility.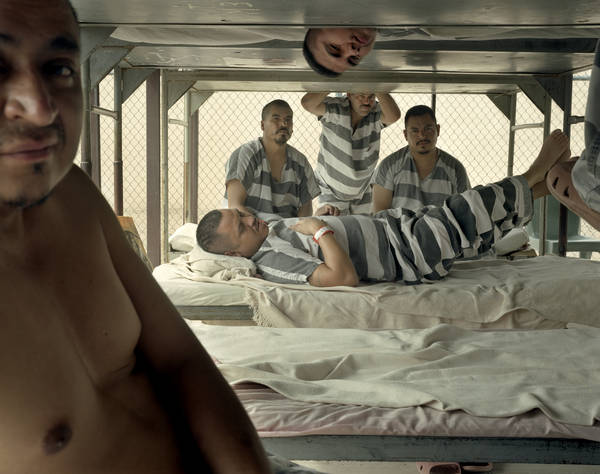 Tent City is located in a yard next to a more permanent structure containing toilets, showers, an area for meals, and a day room. It has become notable particularly because of Phoenix's extreme temperatures. Daytime temperatures inside the tents have been reported as high as 150 °F (65 °C) in the top bunks. During the summer, fans and water are supplied in the tents.

During the summer of 2003, when outside temperatures exceeded 110 °F (43 °C), which is higher than average, Arpaio said to complaining inmates, "It's 120 degrees in Iraq and the soldiers are living in tents, have to wear full body armor, and they didn't commit any crimes, so shut your mouths." Inmates were given permission to wear only their pink underwear.

© Jon Lowenstein
Réagissez à cet article