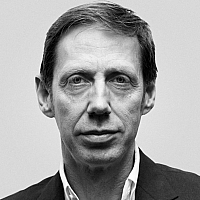 Nick Knight
#Photographe de mode
#Incontournable
#Mode
Nick Knight, photographe anglais, est un des maîtres de la photographie de mode. Tout au long de sa carrière, il défie les diktats de la beauté, imposés par les médias et la société, en proposant une esthétique décalée.

Né à Londres en 1958, il éprouve très jeune une attirance pour l'art, les images et les couleurs, laissant entrevoir des prédispositions pour la photographie. Il poursuit ses études au Bournemouth and Poole College of Art and Design et publie en 1982, à la fin de ses études, un ouvrage intitulé Skinheads dans lequel il fait état de son mal-être d'adolescent.

Homme sensible et discret, il arpente durant des heures les rues anglaises en photographiant les visages des passants et les scènes de la vie quotidienne. Sa rencontre avec Terry Jones, éditeur du célèbre magazine i-D, à la fin des années 80 est déterminante pour sa carrière. Pour célébrer son cinquième anniversaire, le magazine commande au photographe une série de 100 portraits en noir et blanc. C'est le début du succès pour Nick Knight qui commence à shooter des mannequins pour le catalogue de Yohji Yamamoto: une collaboration qui sera couronnée de succès.

Proche d'Alexander McQueen, ils réalisent ensemble plusieurs oeuvres, dont une mettant en exergue la beauté des femmes fortes et handicapées. Il met également les minorités en valeur dans le shooting de la campagne Levi's en photographiant des cowboys septuagénaires. En 2001, il rend ses oeuvres accessibles sur la toile avec son site www.showstudio.com et réalise l'édition du calendrier Pirelli en 2004.

Aujourd'hui de nombreux créateurs dont John Galliano, Rei Kawakubo, et Jil Sander lui reconnaissent un talent unique. Il signe régulièrement de nombreuses séries de mode et campagnes publicitaires : ses dernières en date sont les campagnes de Dior et de Lancôme. Nick Knight collabore également avec des artistes pour des pochettes d'albums et des clips.