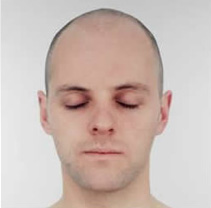 Gavin Turk, Portrait of Something I'll Never Really See, 1997
Expositions du 24/01/2008 au 31/03/2008 Terminé
Victoria and Albert Museum South Kensington, London SW7 2RL (44 20 7942 2000). www.vam.ac.uk
Don't miss the chance to see highlights from the V&A's collection of contemporary photography.
artsdepot will be the only London venue to host this touring exhibition, which will include work by leading artists Richard Billingham, David Hockney, Cindy Sherman, and Hannah Starkey, as well as iconic images such as Nick Knight's photograph of Naomi Campbell.
This exhibition features over 40 images, covering a wide range of subject matter, and offers a special opportunity to see an overview of contemporary photography from the last two decades.
Photographs range from Vik Muniz's Action Photo 1(After Hans Namuth), to Nan Goldin's Jimmy Paulette on David's Bike, NYC from her influential series The Ballad of Sexual Dependency.
The exhibition title is inspired by Gavin Turk's photograph of a similar name. The title plays upon a number of ideas: when looking at a photograph the viewer sees a moment in time that has been captured and cannot be relived; the photographer sees his subject through a lens; and the subjects of the photograph are people and places that most of us will never see in real life.