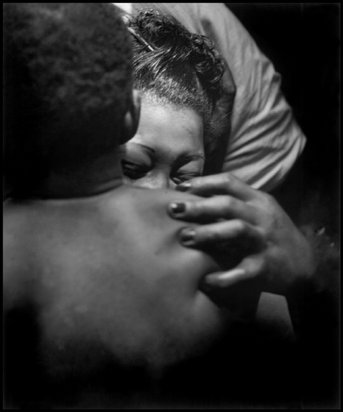 Expositions du 7/04/2010 au 22/05/2010 Terminé
Magnum Print Room 63 Gee Street EC1V 3RS London Royaume-Uni
In February 2010 Magnum Photos announced the sale of its New York print archive to the founder of Dell computers, Michael Dell. Comprising over 185,000 photographs, this landmark acquisition takes a substantial amount of previously purchasable early Magnum photographs off the market, to be catalogued and preserved as a study collection at the Harry Ransom Center at the University of Texas, Austin. "Early Magnum" provides an opportunity to view rare prints from the Magnum archive in London, which remain available for sale. Composed of work by photographers associated with the agency in its first 10 years (1947 – 1957), it includes all four founders: Henri Cartier-Bresson, David Seymour, George Rodger and Robert Capa; series' by Werner Bischof, Leonard Freed and Dennis Stock, as well as individual images by Eve Arnold, Rene Burri, Cornell Capa, Bruce Davidson, Elliott Erwitt, Erich Hartmann, Burt Glinn, Inge Morath and Wayne Miller.
David 'Chim' Seymour, whose friendship with Robert Capa and Henri-Cartier Bresson dates back to before the Spanish Civil War, is represented by his well-known image of a peasant woman listening to a speech in Extremadura, Spain, 1936. The negative of this picture was recently rediscovered in the Mexican suitcase now being catalogued at the International Centre of Photography, New York. Two vintage prints from George Rodger's Nuba series (1949), a striking portrait of a Chinese child soldier taken in 1938 by Robert Capa and two larger signed exhibition prints of early post war street scenes in China (1948) and Hong Kong (1949) by Henri Cartier-Bresson complete the founders' selection.

Magnum photographers have always blended art and documentary photographic practices. Werner Bischof joined Magnum in 1949 and although coming from a background in studio photography, he gained international recognition for his images of the destruction reeked by war on Europe's landscape. Included here is a rare vintage series of silk drying in Japan that beautifully highlights his formal approach to photography. Another early Magnum member, Erich Hartmann (joined 1951), best known for his classic photojournalism, experimented later in his career with various effects in photography. Laser light is used to stunning effect on the sequence of nudes from the 1970s a selection of which is on display.

The agency has had a long association with film and its archive is rich in images from Hollywood's golden age. Dennis Stock, who sadly passed away this January, joined Magnum in 1951 when still in his early twenties, and is represented here by a playful series with the actor James Dean posing in a funeral parlour, taken seven months before Dean died.

Eve Arnold was Magnum's first female member to join in the USA, in the same year as Dennis Stock. Ninety-eight this April, her career has ranged widely on subjects from Senator Joseph McCarthy through to her celebrated documentary 1970s colour study, In China. However, she is perhaps most widely known for her photographic collaboration with Marilyn Monroe, another troubled movie star, of whom a breathtaking portrait from 1955 is included.

Wayne Miller, who joined the agency in the mid 1950s, received a Guggenheim fellowship to record the burgeoning African-American community in Chicago's South Side 1946 –1948, a classic piece of social documentary. This work is represented here by the beautiful image "Tuesday Afternoon on South Halsted Street", 1947. Three prints from Leonard Freed's seminal series of two decades later, Black and White in America, includes a portrait of Martin Luther King (1964), and a young black boy playing tough on the streets of Harlem from 1963. A group of prints from this project formed part of a significant acquisition of Freed's work by the Getty Museum last year.

American photographer Bruce Davidson joined Magnum in 1956. In a month in which Tate Modern includes his Subway series in their forthcoming re-hang, the Magnum Print Room includes three vintage prints from an earlier project, Brooklyn Gang (1959). Included in his new retrospective book Outside Inside (Steidl, April 2010) this work was Davidson's first major project, photographed when not much older than his subjects, the disaffected New York youths.

Early Magnum's content is diverse: ranging from social documentary and portraiture to more exploratory approaches to the medium. Produced by a group of focused individuals, united by their shared independence and pursuit of their subject matter, this work has grown in some cases to iconic status. This exhibition is a treasure trove of twentieth century photojournalism, demonstrating the richness of the early Magnum archive.