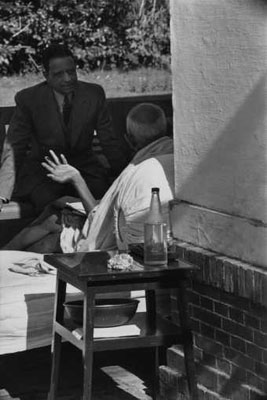 Expositions du 3/9/2008 au 24/10/2008 Terminé
Flo Peters Gallery Mönckebergstraße 7 20095 Hamburg Allemagne
Magnum Photos and the Flo Peters Gallery present the sensational rediscovery of the first Magnum Group exhibition of 1955.

Research shows that the exhibition "Face of Time" was first shown in June/July 1955 in the French Cultural Institute in Innsbruck. Their existence forgotten, the 83 Magnum Vintage Prints lay hidden in two wooden boxes in the basement of the French Cultural Institute for more than 50 years. Only in 2006 was this treasure rediscovered and returned to Magnum Photos. This unique historical discovery revises the belief that the Magnum exhibition curated by Fritz Gruber for the Colonial photokina in the autumn of 1956 was the first.

This rediscovered original exhibition of 83 images from 8 photographers of the first Magnum-generation is now presented exclusively at the Flo Peters Gallery. Included are Henri Cartier-Bresson's reportage on his encounter with Mahatma Gandhi shortly before his death, Marc Riboud's picture series from the Balkans and Jean Marquis' images from Hungary. Works by Werner Bischof and Robert Capa are also shown. Ernst Haas is presented with a series that emerged during the shooting of the Hollywood film "Country of the Pharaoes" under the direction of Howard Hawks while the London district of Mayfair is the subject of the works of Inge Morath. Erich Lessing's pictures show the children of Vienna.

The catalogue "MAGNUM'S first" by Hantje Cantz, edited by Peter Coeln, Prof. Achim Heine and Andréa Holzherr with an introduction by Dr. Christoph Schaden, art historian, publisher and member of the executive committee of the German Society for Photography, shows a complete documentation of this historical exhibition.

With her series "The German Forest", photographer Sabine Wenzel undertakes a photographic journey through nature. Tree landscapes around Germany being her subjects, it is not easy to establish whether her work is photography or painting. Yet this "irritation" is intended. The artist wants to create photographic images that transcend reality. Thus, Sabine Wenzel manages to depict the diversity of atmosphere in a forest in an impressive manner. Through the combination of light, shadow and darkness, every picture seems inviting and threatening at the same time.

The Flo Peters Gallery First Floor presents a selection of large-size works from this series.

Sabine Wenzel (*1966) studied at the Academy of Visual Arts, Leipzig and at the University of Art and Design, Halle. She lives and works in Berlin.