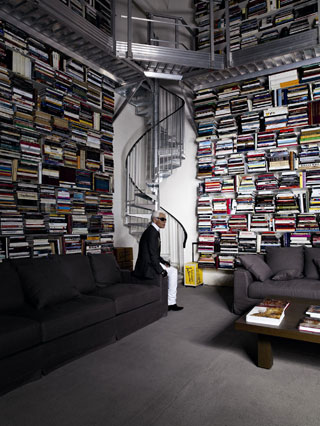 Expositions du 9/11/2010 au 24/12/2010 Terminé
La Monnaie de Paris 11, Quai de Conti 75006 Paris France
Mois de la photo 2010 Point information 5,7 rue de Fourcy 75004 Paris France
As part of its plans to engage with a wider public and in line with its desire to share in key events of Parisian cultural life, the Monnaie de Paris is taking part for the second time in the Mois de la Photo (Photo Month) and has chosen to pay tribute to a key figure from the world of photography, namely Gerhard Steidl.

Steidl founded the publishing house and printing works which bear his name in 1972 and has played a part in promoting the work of the most important photographers, past and present, with a whole series of admirable books. The quality of the page layout, typography and choice of paper, together with the incredible care taken over the actual manufacturing of the books, mean that these are genuine objets d'art and very popular with connoisseurs. The artists not just photographers but also visual artists and writers who have worked with Steidl say that it is a unique experience, both from a technical point of view and in terms of the working relationship, creativity and friendship he offers. There are many such artists all over the world, and to date there have been 2,200 books published, at a current rate of one photography book every single day. It is the creation of these books that this exhibition sets out to explore - how are 'Steidl books' designed, how are they put together and why do we fall in love with them more than any others?

The exhibition is transferring from the Musée de l'Elysée in Lausanne and gives pride of place to photographers such as Jim Dine and Karl Lagerfeld, each of them taking over a room to display their abundant creative work and demonstrate the strength of their bonds with Gerhard Steidl.

The exhibition also offers an opportunity to present the collection of the
Maison Européenne de la Photographie whose thirtieth anniversary we are celebrating, and features some forty images loaned by the MEP, all establishing a dialogue between photography and books. Twenty or so photographers including Henri Cartier-Bresson, Robert Frank, David Bailey, John Baldessari and Raymond Depardon - all of whom have worked with Steidl - have been carefully chosen, and the exhibition features both their books and their photographs.

As Henri Cartier-Bresson himself put it: "Photos should be looked at in books, not on walls".