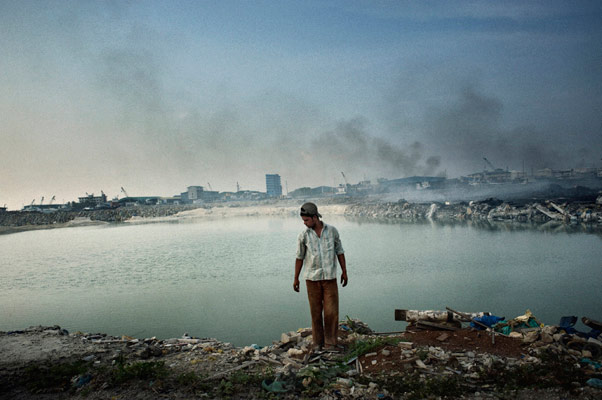 Francesco Zizola | NOOR, The Maldives, October 2009.
Expositions du 5/6/2010 au 20/6/2010 Terminé
Noor Photo Agency Nieuwpoortkade 2A (unit 310) 1055 RX Amsterdam Pays-Bas
Coming Saturday, 5 June, World Environmental Day, the unique photographic Consequences by NOOR street exhibition opens on Istanbul's centrally located Galatasaray Square. The street exhibition will be on show through to 20 June, and forms the opening event of the Intercultural Art Dialogues Days and Istanbul 2010 European Capital of Culture.

With the participation of :
Nina Berman (Path of Destruction: Mountain Pine Beetles, Canada) | Philip Blenkinsop (The Fires Within: Burning Coalfields, India) | Pep Bonet (Blackfields: Poland's Coal Industry, Poland) | Jan Grarup (Climate Refugees, the Horn of Africa) | Stanley Greene (Shadows of Change, Greenland) | Yuri Kozyrev (Karabash and The Yamal Peninsula, Russia) | Jon Lowenstein (In The Oil Sands: Alberta, Canada) | Kadir van Lohuizen (Brazil's Range War: Assault on the Amazon, Brazil) | Francesco Zizola (A Paradise in Peril, The Maldives)

Featuring the work of NOOR's nine internationally acclaimed documentary photographers, the 100 exhibited photographs show the devastating effects of climate change around the globe.

Consequences by NOOR is a showcase for creativity in photography and an eyewitness record of the causes and the humanitarian effects of world-wide temperature changes. Produced in the autumn of 2009, these visual reportages show not what might happen in the future but what is happening today, emphasizing the urgency of addressing the issues at stake.

Yuri Kozyrev | NOOR, Russia, October 2009.
Kadir van Lohuizen | NOOR, Brazil, October 2009.
Pep Bonet | NOOR, Poland, September 2009.