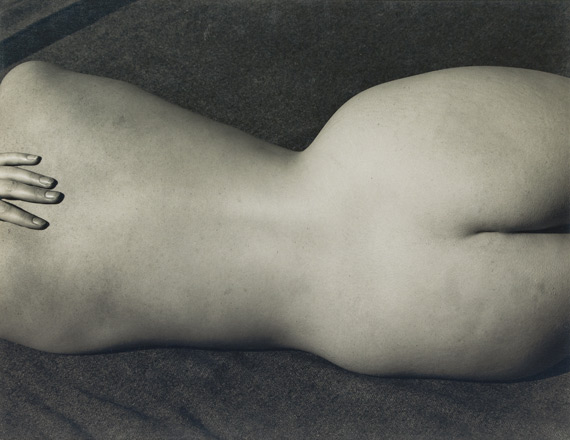 Edward Weston, Nude (Charis), silver print, 1935. Estimate: $35,000 to $45,000. © Center for Creative Photography, University of Arizona
Ventes du 20/5/2010 Terminé
Swann Galleries 104 East 25th Street NY 10010 New York États-Unis
On Thursday, May 20, Swann Galleries will conduct a two-part auction of Photographic Literature & Important Photographs that features many scarce and significant works-both individual photographic images and books.

The auction opens with nearly 200 lots of Photographic Literature, including many sought-after monographs such as a first edition of Berenice Abbott's Changing New York, 1939, signed and inscribed to photograph collector and dealer Howard Daitz (estimate: $4,000 to $6,000); signed and inscribed first editions of Manuel Alvarez Bravo's Fotografias, Mexico, 1945 ($9,000 to $12,000), and Alexey Brodovitch's Ballet, New York, 1945 ($8,000 to $12,000); as well as Robert Frank's The Lines of my Hand, Tokyo, 1972 ($3,500 to $4,500).

There are three sumptuous examples from 21st Editions books' Platinum Series: Sally Mann, illustrated with 10 platinum prints by the artist, plus an additional signed print, one of 100 copies, 2005 ($12,000 to $18,000); Robert and Shana ParkeHarrison's The Book of Life, one of 75 signed and numbered copies issued with an additional signed platinum print, 2005 ($14,000 to $18,000); and Michael Kenna's Mont-Saint-Michel, from an edition of 60 signed and numbered copies, with an additional signed print, 2006 ($10,000 to $15,000).

Among many desirable artists' photo books are Doris Ulmann's masterpiece Roll, Jordan, Roll, one of 350 copies signed by Ulmann and author Julia Peterkin, issued with an extra signed photogravure plate, New York, 1933 ($25,000 to $35,000); a signed limited edition of Gordon Matta-Clark's Walls Paper, illustrated with his black-and-white photographs of decaying walls in Bronx tenements, 1973 ($4,000 to $6,000); a run of nine publications by Roni Horn documenting the geography and culture of Iceland, To Place (Books I-IX), first editions, plus a supplementary catalogue, 1990-2006 ($5,000 to $7,500 for the set); Matthew Barney's Cremaster, Volumes 1-5, first edition, volume 5 signed by Barney, 1995-2002 ($2,500 to $3,500); and works by Andreas Gursky, Robert Heinecken, Ed Ruscha and others.

Japanese first editions include a select group of six rare, lavishly illustrated titles by Yasuhiro Ishimoto, each signed by Ishimoto, 1955-2003 ($800 to $1,200); Yutaka Takanashi's Toshi-e [Towards the City], two volumes, Tokyo, 1974 ($3,000 to $4,000); and Miyako Ishiuchi's Yokosuka Story, Tokyo, 1979 ($1,500 to $2,500).

The sale's afternoon session features more than 250 important photographs-from 19th-century cased images by unknown photographers to contemporary works by world-renowned artists. Among the earliest highlights are mammoth albumen prints of southwestern landscapes by William Henry Jackson; plates from Eadweard Muybridge's Animal Locomotion; Julia Margaret Cameron's portrait of Alfred, Lord Tennyson, albumen print, 1869 ($12,000 to $18,000); an album with 49 views of old Japan by Felix Beato, circa 1872 ($8,000 to $12,000); and an early album by Pierre Pullis containing 50 photographs of the construction of the New York City subway, 1900-1902 ($12,000 to $18,000).

Modernist works of note include Imogen Cunningham's elegant Magnolia Blossom, silver print, 1925, printed 1970s ($12,000 to $18,000); Edward Weston's sensual Nude (Charis), silver print, 1935 ($35,000 to $45,000); and several of Alexey Brodovitch's ballet images gifted and inscribed to a friend, among them one from the series Septième Symphonie, and one from Les Sylphides, silver prints, 1935-37, printed 1950s-early 60s ($10,000 to $15,000 and $8,000 to $12,000 respectively).

The auction will begin at 10:30 a.m. on Thursday, May 20 with Photographic Literature, and will continue at 2:00 p.m. with Important Photographs.

The photographs and books will be on public exhibition at Swann Galleries Saturday, May 15, from 10 a.m. to 4 p.m.; and Monday, May 17 through Wednesday, May 19, from 10 a.m. to 6 p.m.


An illustrated catalogue with information on bidding by mail or fax, is available for $35 from Swann Galleries, Inc., 104 East 25th Street, New York, NY 10010, or online at www.swanngalleries.com.