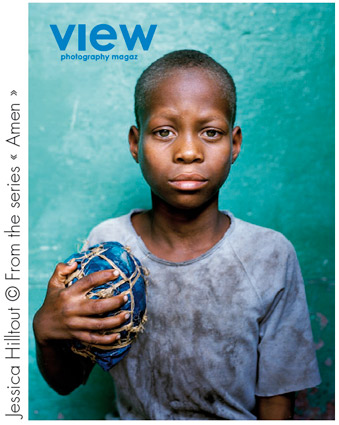 December 2009 - June 2010 / View N°16 / 16 Photographers :

Audrey Bardou - Paula Winkler (artistes de la galerie Polar+NKA*)

Jean-Marc Bodson - Bertrand Carrière - Thomas Chable - Olivier Cornil - Tine Claerhout – Carl De Keyzer - Loïc Delvault - Laurent Friob - Jessica Hilltout - Jens Olof Lasthein - Isabelle Pateer - Nicola Lo Calzo - Sarah Van den Elsken - Anke Van Iersel

View photography magazine is a Belgian magazine, independent in its choices and editorial structure.

The idea came a few years ago. And in 2005 the magazine was founded by Stephan De Broyer, the Chief Editor. Ever since View is a platform for contemporary photography but also an open door on cinema image creation, through which the reader discovers the different faces of the big screen and its protagonists.

The very purified style though rich in content, already greeted many times, unveils the essential side of hors format magazines. The print on high grammage mat paper, the varnish, the graphics of the minimalist cover offer the image and the text a great occasion to coexist and also reinforce the idea of qualitative portfolio. The quarterly frequency invites the readers to dive into the different portfolios presented by the columnists or the photographers themselves. It also allows the publishing of original editorial material.

View is definitely not a consumer media, the philosophy and the «object» look make you want to collect it or start your own collection. Why not!

Professionals or amateurs, journalists, professors or students, gallery owners, the general public from the museums of photography and contemporary art make up, i.e., the basis of the editorial target of the magazine. The three-language edition (French, Dutch, English) opens widely and spontaneously to several communities, allowing exchanges and encounters of known or new worlds. The diffusion is well facilitated by the polyglot concept, showing once again an open mind on the planet and its numerous inhabitants.