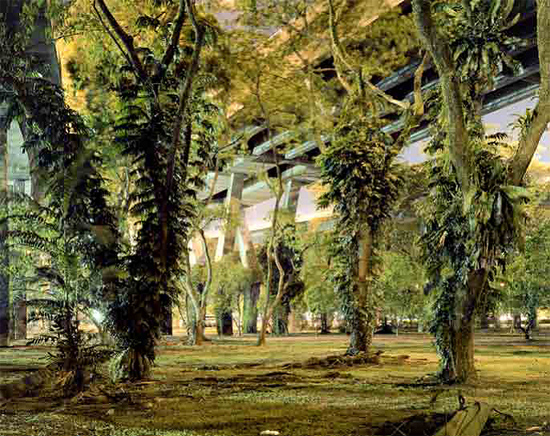 Peter Bialobrzeski
Expositions du 20/11/2009 au 17/1/2010 Terminé
Helmhaus Zürich Limmatquai 31 CH-8001 Zürich Suisse
In 2005 and 2007, Helmhaus Zürich presented the first and second parts of its World - Images exhibition series. The project now continues with the third part, accompanied, as always, by a publication. One of the main aims of this project is to find out more about the different ways in which artists transpose their views of the world into the medium of photography, especially in an age of media overkill. The exhibition shows a vibrant cross-section of contemporary photography.
World - Images 3 covers a range of individual visual worlds and worldviews. Each of the eight artists featured in this exhibition has a distinctive approach in terms of creative expression, subject matter and in terms of the social and geographic setting that is the focus of their work. Which worldviews are conveyed in the visual worlds of these artists? The answer to that question lies in the works themselves, some of them entirely new and all of them selected in close consultation with the artists themselves.

The photographs in this exhibition address their own inherent possibilities - and impossibilities: the possibility of making a statement about the world, presenting it and interpreting it. In short, these are photographs that investigate their own inherent truth. They openly call into question the characteristic properties of their own medium as an instrument of documentation and interpretation. They translate the world into the world of photography. And, as visual aids, they serve to translate the world of photography back into the world around us in all its bewildering simultaneity of disparity. In other words, the World - Images exhibition series pursues the programmatic aim of presenting an artistic awareness of the world and encouraging debate about the extent to which art - in this case, photography - can be seen in terms of shaping our perception of the world around us.