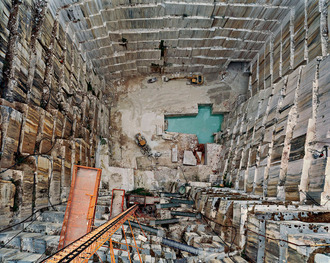 Iberia Quarries # 8, Cochicho Co., Pardais, Portuga
Actualités du 22/10/2009 au 23/11/2009 Terminé
On 22 October at the Passage de Retz gallery in Paris Kofi Annan, Honorary President of the Prix Pictet, will announce the winner of this year's award. Planning for the exhibition of work by the Prix Pictet Shortlist 2009 is complete and it is clear that that the Jury face a considerable challenge when they sit down to consider this group of images that range from the painterly to the documentary and all points in between – often within a single submission. The power of the shortlisted images was summed up by Stephen Barber when he introduced them at the Rencontres d'Arles. "We are all of us, all too familiar with the great issues of sustainability – climate change, environmental degradation, deforestation – yet how many of us have experienced personally the devastating consequences depicted by these photographers?".

At the same time one of the shortlisted photographers will be invited to complete the Prix Pictet Commission 2009.

The complete exhibition of the Prix Pictet Shortist 2009 will be at the Passage de Retz gallery, Paris, 23 October - 23 November 2009.