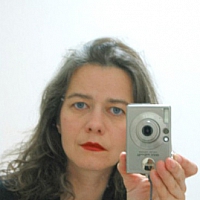 Jacqueline Hassink
#Photographe
#Incontournable
Jacqueline Hassink (b. Enschede 1966) lives and works in New York. She is interested in the way in which economic power is staged, particularly in environments that confirm power and make its pursuit possible. In various photographic projects she presents the image that companies assume ­ be it the auto industry or the fashion world ­ and how they present themselves; for example, through the interiors of their head offices, as Hassink revealed earlier in the Mindscapes series presented in Huis Marseille in 2003, or through the women in the series Car Girls, whose looks are attuned to the aura of the car models they promote at international automobile shows. Similarly, exclusive French couturiers express their identity through the interiors of their private dressing rooms (Haute Couture Fitting Rooms, Paris).

Thematically, Jacqueline Hassink's photographs concentrate on the concepts of public versus private, or outside as opposed to inside. The boundaries between the public and the private domain are perhaps most clearly revealed in the Arab Domains series, in which she portrays Arab businesswomen through photographs of their conference rooms and personal dining rooms. Whereas the boundaries between public and private are sharply delimited in Arab Domains, they blur into one another in the Japanese gardens of View, Kyoto, however.

Characteristic of Hassink's methodology is the meticulous system she uses in making, describing and displaying her photographs. For her, the investigation, the interviews and the journey that precede the making of the photograph are just as much a part of the process as is the final product. It is not only the result that counts, but also the concept and the discussion she initiates with her subjects. As a photographer, she tries to make the spaces and portraits as visible and understandable as possible, through light, colour and composition.