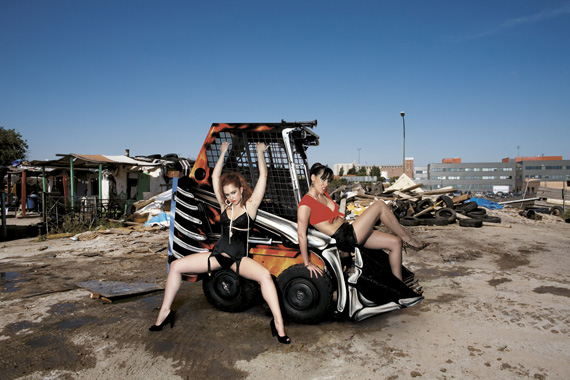 Expositions du 31/10/2008 au 5/12/2008 Terminé

Gallery Caprice Horn Kochstr.60 10969 Berlin Allemagne


smash the ghetto by DEMOCRACIA

Democracia have participated in numerous museum shows including the recent show curated by Hans Ulrich Obrist with artists such as Cy Twombly, Gilbert & George and Doug Gordon et al (Casa Museo Federico Garcia Lorca, Granada), as well as the Taipei Biennale 2008.
In 2007, the Madrid City Council decided that El Salobral, one of Europe's largest shanty towns located on the southern outskirts of Madrid, should be demolished and its inhabitants rehoused. "Smash The Ghetto" is a video and photography installation documenting the demolition of these slum districts.

Parallel to this solo show the gallery is presenting individual projects by the artists Maslen & Mehra, Daniel Canogar and Li Wei.

Maslen & Mehra are exhibiting their latest installation which emulates the free-standing military recruitment office at Times Square, New York. It includes the giant neon flag on the side of the building and the similar placement of the screen on the front of the structure. The artists work can also be seen at PICA "Silver - Artrage 25", Perth Institute of Contemporary Arts (until Nov. 23, 2008). Their work can also be seen at the Lianzhou International Photography Festival, China Dec 2008.