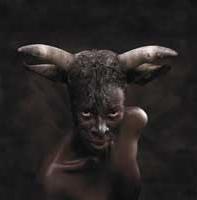 Nandipha Mntambo
Expositions du 15/5/2008 au 5/7/2008 Terminé
Michael Stevenson Hill House De Smidt Street, Green Point Cape Town Afrique du Sud
Michael Stevenson is pleased to present Disguise: The art of attracting and deflecting attention. The exhibition will mark the opening of the gallery's new premises in Woodstock, Cape Town, on Thursday 15 May, and the gallery's fifth birthday celebrations.

In popular culture, the archetypal disguise is Superman's pair of glasses, which turn him into Clark Kent. This particular case reveals something: often that which is disguised is hidden in plain view. Everyone familiar with the movies or comic strips has wondered, at some point, why Lois Lane does not recognise that her two love interests are one and the same.

The implications of outward appearance are amplified in the case of Africa and its diaspora because of the historical significance of skin colour. Perhaps as a result, there is a profound engagement with disguise in the work of many artists with links to the continent. Disguise will bring together artists from South Africa, the continent and beyond who investigate the processes of attracting or, conversely, deflecting attention.

The exhibition explores threads of pageantry, trauma, drag, political pretence, fashion and stealth in the work of, among others, Zander Blom, Candice Breitz, David Goldblatt, Simon Gush, Pieter Hugo, Lunga Kama, Natasja Kensmil, Kalup Linzy, Nandipha Mntambo, Zanele Muholi, Youssef Nabil, Athi-Patra Ruga and . It will feature a range of media, including painting, sculpture, photography and video.

The exhibition is curated by Joost Bosland, also the curator of the side gallery project at Michael Stevenson which was introduced in 2007.

Disguise will open on Thursday 15 May from 6 to 8pm. Gallery hours are Monday to Friday, 9am to 5pm, and Saturday from 10am to 1pm.

Joost Bosland will give a free public walkabout of the exhibition on Saturday 17 May at 11am. All are welcome.