Klavdij Sluban, Banc dans le jardin, 2013, Hauteville House, Guernsey, Silver gelatino-bromure print on fiber paper, Edition Size: 7, 40 x 50 cm
Expositions du 21/5/2015 au 30/7/2015 Terminé
Galerie Klüser 2 Türkenstrasse 23, 80799 Munich Allemagne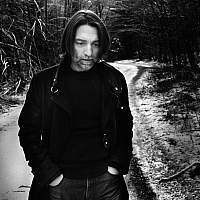 Klavdij Sluban
:
Klavdij Sluban spent the best part of 2013 as "artist in residence" at Hauteville House on the Channel Island of Guernsey, where Victor Hugo lived in exile for 15 years. His intention was to grasp the special atmosphere of the house and its direct surroundings. As a result, the writer's one-time home and his presence, which can be sensed there still, undergo an almost timeless transformation to the present in Sluban's subtle photographs.
Klavdij Sluban works like a classic photographer, consciously avoiding the use of many common parameters in successful contemporary photography: no overwhelming, large-format overall picture; no narrative staging to spectacular effect; no use of colour to accentuate the realistic reproduction of present affairs. Instead, he concentrates on details and so creates an associative freedom, trusting in the infinite spectrum of black and white shades and the variable effect of light and shade. In addition, an affinity with Victor Hugo's drawings emerges in this way, for most of them use no colour, defined by deftly controlled graduations of light and dark that lead to an abstract, rather intellectual mode of expression.
Victor Hugo's intention was to stimulate critical, creative perception while reading or viewing. Sluban's photographs in the exhibition can stand shoulder to shoulder with Hugo's work in this regard. All the photographs of the exhibition were shown in the Paris museum "Maison Victor Hugo" in 2014/15. We would like to thank those at the museum for their congenial, supportive cooperation.
Victor Hugo
:
The greatest of romantic authors, Victor Hugo, died exactly 130 years ago on 22nd May 1885. In France he was celebrated as a national hero even during his lifetime. Almost 600,000 paraded past his apartment to mark his 80th birthday, and 5 years later an even bigger, vast crowd of people followed the funeral procession to the Pantheon, where he was laid to his final rest.
His commitment to human rights (incl. against the death penalty) and social reforms is legendary. In a visionary, optimistic spirit he planted the oak of the "united states of Europe" in his garden shortly before the outbreak of the Franco-Prussian war in 1870/71.
For decades, Victor Hugo was obliged to make great sacrifices in the struggle against reactionary despotism. In 1851 his opposition to Napoleon III's coup d'état forced him into exile on the British Channel Islands Jersey and Guernsey (from 1855), where he lived, wrote and produced his drawings in "Hauteville House". He was unable to return to France until 1870.
He is less well-known for his talent as an innovative draftsman, who not only added a fresh dimension to Late Romatic landscape drawing with his unconventional approach, but also – with a group of drawings during his period of exile – also triggered the beginnings of abstract art.
Recently, the exhibition "Turner - Hugo - Moreau – The Discovery of Abstraction" in the Schirn Kunsthalle Frankfurt in 2007 / 2008 drew attention to this important developmental stage in art history. It is all the more astonishing, therefore, that in Germany only one public collection of graphic art (Weimar) owns a piece by Victor Hugo to this day. In our exhibition we are showing 12 drawings by Victor Hugo – to supplement the photographs by Kavdij Sluban – as loans from the Klüser Collection, not for sale: these works document the full spectrum of innovation in his drawing.