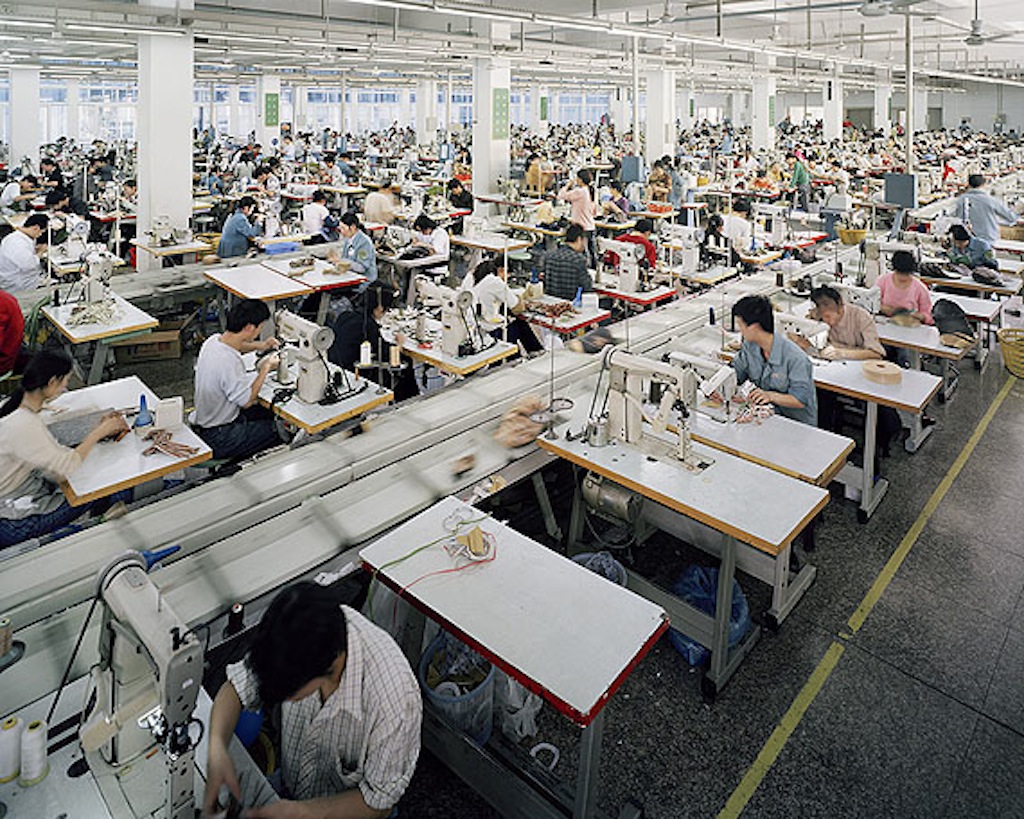 Edward Burtynsky: Manufacturing #6a & #6b, Hongqingting Shoe Factory Wenzhou, Zhejiang, China (Diptychon), 2004 Courtesy Galerie Stefan Röpke, Köln © Edward Burtynsky
Expositions du 24/1/2013 au 30/3/2013 Terminé
OstLicht Absberggasse 27,   1100 Vienna Autriche
The gallery OstLicht is located on the former campus of the Anker Bread Factory, i.e. at a location that was used industrially for a long time, its original use having changed over the past years.

With its exhibit Industrie (Industry), OstLicht commemorates the history of its own location, offering an examination of aspects of industrial production by presenting fifteen contemporary artistic positions ready to be explored.

Usually, the methods of industrial production remain invisible – for those who do not work there, factories are inaccessible places. The production of goods has also vanished from the public perception because numerous factories in Austria have been closed during the past decades, manufacturing having been outsourced to other countries. Former industrial compounds decay or are rededicated to other purposes.

The artists in this exhibition examine the following questions, among others: what does factory work look today, and how has it change? How does it take place in different geographic regions? How is working at machines inscribed upon the body of the workers and their movement sequences? Which effect does industrial production have on the landscape and the ecosystem? What do these spaces look like after work has been removed from them?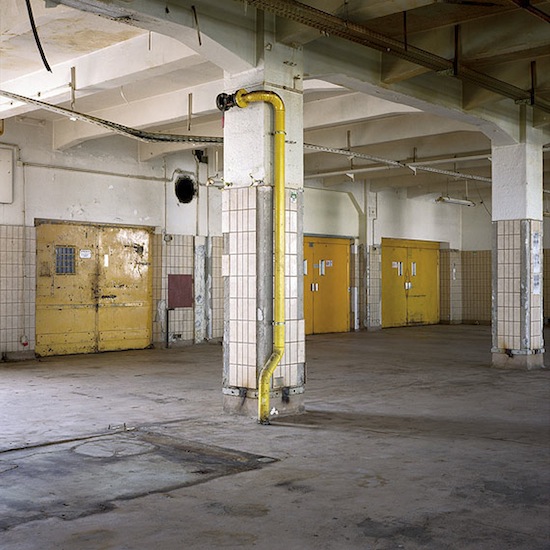 Elisabeth Czihak:
Ankerbrotfabrik # 5, 2009
Courtesy Galerie Heike Curtze, Wien und Galerie anika handelt, Wien
© Elisabeth Czihak / VBK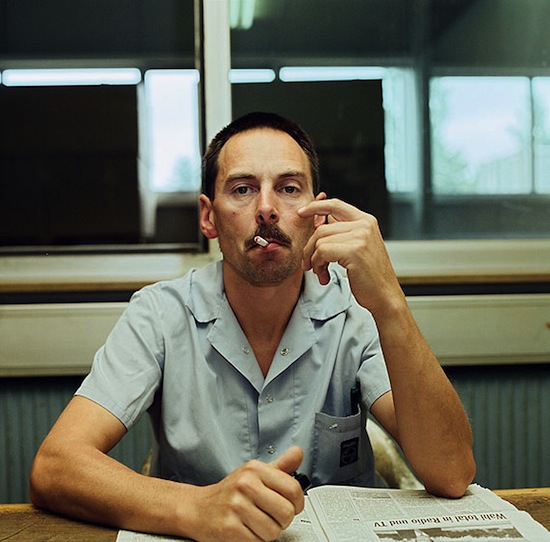 Max Wegscheidler:
Philips, 1996
© Max Wegscheidler


In her series Ankerbrotfabrik (Anker Bread Factory, 2009), Elisabeth Czihak shows spaces which have lost their original function. We see empty work-floors before they are rededicated, when only relics like machines, heaps of flour and warning signs remind the viewer of the former production site for victuals.

In Bergwerk (Mine, 2008-2010) Anatoliy Babiychuk examines the life of his father, who worked for 40 years as a miner in a Ukrainian brown coal mine; at the same time, he explores today's social and economic developments in the Ukraine.

In Industrie Fotografie (Industry Photography, 2007), Carla Bobadilla looks at working situations in various industrial companies throughout the Austrian republic, for example the firms of Bösendorfer, Funder Max, Staud, Trumer Pils or Wienerberger.

The many workers Edward Burtynsky shows in Manufacturing China seem like playing figures in the great "theater" of industry. He was able to take photographs of the seemingly endless production halls in several Chinese provinces, where thousands of workers produce mobile phones, shoes or textiles.

Michael Goldgruber focuses on the industrial usage, control and exploitation of nature. In Underground Power Control (2011) he shows the power station Kopswerk 2 in Vorarlberg, a state-of-the-art pumped-storage hydropower plant where the sterile atmosphere hides the extent to which the powers of nature are dominated here.

Birgit Graschopf projects her work Schichten (Layers, 2012) directly onto the walls of the gallery: various Ankerbrot factory workers appear here. In overlaid images, their sequence of movements during the baking process becomes visible, infinitely repeated.

The Brothers Lumière's film Workers Leaving the Factory was the first film ever to be screened in history. Katharina Grunzei's short film Die ArbeiterInnen verlassen die Fabrik (Workers Leaving the Factory, 2012) refers to this. The setting is the Tobacco Factory in Linz, closed since 2009.

Cornelia Hauer presents a text collage of interviews with retired migrated workers from the textile industry in Gschichten aus der Vöslauer Kammgarn-Fabrik. Ehemalige ArbeiterInnen erzählen (Stories from the Worsted Factory at Vöslau. Former Workers Tell their Stories, 2012). Subjects include piece work, the inclusion of migrated workers in our society and the factory's bankruptcy.

In Invisible Oil (2008), Ernst Logar examines the dependence of our society on mineral oil. The artist managed to get access to non-public venues of the mineral oil industry in the North Sea. This resulted in photographs, correspondence with oil companies and sculptures crafted from washed-up plastic garbage.

The diptych Raumfolgen 235/2007 (Spatial Sequences 235/2007) by Walter Niedermayr shows two views of the same space, an industrial production site in the Tyrol where gas engines and block heating stations are manufactured.

Markus Oberndorfer's work Traces (2006) deals with the changed function of industrial compounds that have been abandoned. Empty factory halls, industrial buildings or warehouses degenerate into "non-places", but they also develop a new life of their own, as refuge for homeless people, as canvas for graffiti artists or as venues for secret handovers.

In Daily Production, Sascha Reichstein questions tradition and renewal, cultural idiosyncrasies in the age of global economy. Her photographs demonstrate how leather pants are manufactured in Sri Lanka for Europe, while textiles are embroidered in Vorarlberg for Nigeria.

For Maschinen (Machines, 2003-2004), Thomas Ruff went through the picture archive of a tool and machinery factory. He selected a small part of about 3,000 glass negatives, prototypes of sales brochures, and subjected them to a digital and pictorial transformation: scanned and exposed in a new colorful guise, the small negative discs became large-scale images.

Margherita Spiluttini documents "alpine hybrid formations between nature and culture" in her series Nach der Natur (After Nature, 1991-2003). These are photographs of cement mills, stone quarries or the Erzberg, showing how human intervention has shaped the landscape.

During the mid-1990s, Max Wegscheidler spent one and a half years at Philips as a leased laborer. After a long time, during which he had to win the trust of his colleagues, he was able to realize an impressive series of portraits.

Curated by Karin Jaschke

The exhibition is accompanied by a catalogue.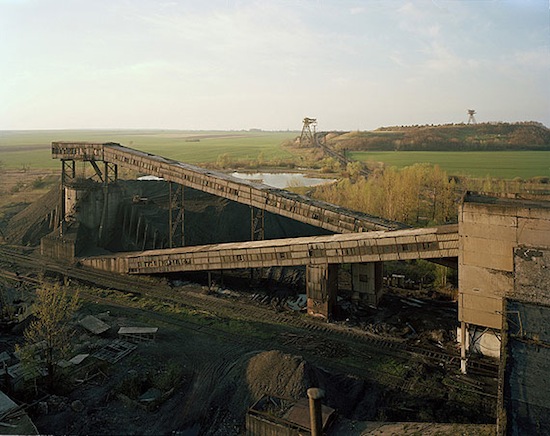 Anatoliy Babiychuk:
Bergwerk, 2008-2010
© Anatoliy Babiychuk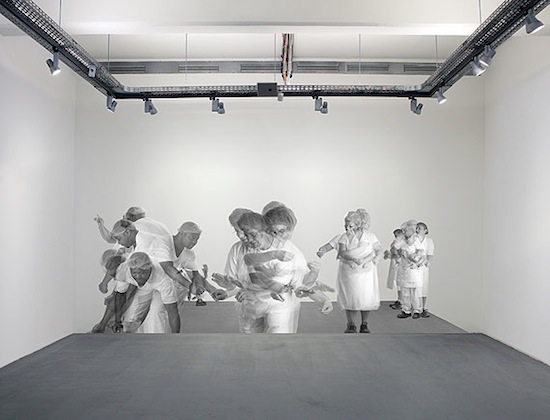 Birgit Graschopf: Schichten, 2012
© Birgit Graschopf

Vignette © Edward Burtynsky
Photos © Elisabeth Czihak © Max Wegscheidler © Anatoliy Babiychuk © Birgit Graschopf