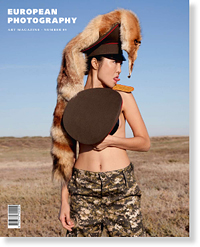 © European Photography Magazine
European Photography 89 features fresh work by contemporary artists as diverse as Viviane Sassen, André Giesemann, Daniel Schulz, Eric Tabuchi, Satomi Shirai, Anna Skladmann, Magda Biernat, Almagul Menlibayeva, Daniel Traub, Hans-Christian Schink, and Vincent Fournier.
Also in this issue:
Boris von Brauchitsch: Google, the New Photo Machine
With Google Earth and Google Street View the visual tsunami has taken on a whole new dimension: thanks to the search engine with its images of our planet, be it from the angle of a satellite or a passer-by, it is possible to view every house in every street in every city – without anyone having selected or even looked at the respective images.
Christoph Schaden: Welcome to the Situation Room
An image. We see thirteen people gathered around a table. As the story goes, it's all about betrayal, and ultimately someone is killed. We look at individual faces and recognize the different responses, which range from paralyzing horror to tension to covert satisfaction. There's no question about it, this confronts us with a brilliant tableau of emotions – and we need no longer think of Leonardo da Vinci's famous Last Supper, especially as a mediatized global public is claiming, with a rare unanimity, that this group picture shot in the so-called Situation Room at the White House by U.S. American photographer Pete Souza during the dramatic events leading to the killing of Osama Bin Laden, is an "icon of the present."
Marc Feustel: You Like This
Blogs have always been fragile creatures: statistics show that around 70 percent of them die within their first month. And now, only a decade after they first appeared, some people are concerned that they are becoming an endangered species.
Milou Abel: Ik ben jou – Photobook Dummy Award 2011
The photographer meets the unknown woman on the street, over and over again. She senses the woman's intensity. Eventually, the photographer asks her if it would be possible to take her photograph. When she visits her home, she is drawn into a world of rituals – and torments: the voice of a young woman full of hatred, who never stops screaming, "I am you, I am you, I am you!" The weird encounter between the photographer and the strange woman gave rise to a book concept and a dummy, composed of her own images and snapshots from past times, using a double gate fold technique to allow the right and left-hand sides of the book to be combined with each other at will. The project won this year's Dummy Award at the 4th International Photobook Festival in Kassel. It convinced the jury not only because of the eloquent and enigmatic rendering of the story of this peculiar woman, but also because of the extra­ordinary design of the book.
International Photo Residencies
Artist-in-Residence (AiR) programs are many and varied. A useful overview of the thousands of artists' residences worldwide is available at portals like Transartists.org, Resartis.org, or Artistcommunities.org, yet not all offers are registered there – probably so as to avoid being inundated with inquiries. After all, sojourns in inspiring foreign surroundings are more popular than ever, especially among young artists. Often the host institution assumes the living costs and frequently the artist has an exhibition at the end of his or her stay. We have studied 37 Artist-in-Residence offers specially for photographers, focussing not just on the attractiveness of the place and the reputation of the institution, but also on the terms and conditions for both the invited artists and the local community. Not included are studio providers who expect applicants to pay the respective expenses themselves. This selection is a first step towards a qualified overview of photography AiR programs; first-hand reports on and references to other offers are very welcome. (Research: Benjamin Füglister)