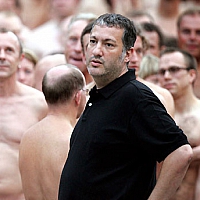 Le photographe américain Spencer Tunick, connu pour ses compositions dans lesquelles des centaines de volontaires, hommes et femmes, posent nus dans des décors urbains, a besoin de vous. Il nous a envoyé un mail ce matin pour nous parler de son projet Naked Sea, une nouvelle composition réunissant des volontaires prêt à se dénuder sur les rives de la Mer Morte, en Israel. Cherchant à réunir les fonds nécessaires depuis deux ans, il a finalement lancé avec son ami et producteur du projet Ari Fruchter une campagne sur Kickstarter - une plateforme de crowdfunding aujourd'hui souvent utilisée par les photographes. Sur la page du projet, une vidéo revient sur les précédentes installations de Spencer Tunick (à New York, Mexico, Amsterdam, des vignobles de Bourgogne à un glacier Suisse...) et sur le projet Naked Sea : http://www.kickstarter.com/projects/nakedsea/1724064263.
«For the past 20 years since I have known Spencer Tunick I have witnessed his art evolve from the streets of New York, across America and to major cities of the world. What started out as individual photographic portraits of nudes in public environments has grown to mass installations involving thousands of active participants. Through his art, Spencer has championed many important causes; from the First Amendment with the historic Court Ruling protecting his installations as art, to Global Warming (Greenpeace – Switzerland & France) and most recently Gay Rights (Sydney Australia). After touching so many people and places around the world, I have embarked on a personal mission to bring Spencer Tunick to Israel.
The installation will take place at the Dead Sea - the lowest place on earth and one of the most naturally picturesque spots on our planet. It is a body of water that unites 3 different people – Israelis, Jordanians, and Palestinians. Being a sea that is literally dead, nothing can live nor grow in it. Sadly, it is disappearing. The water level and shore line has been diminishing every year. By bringing Spencer Tunick to the Dead Sea I am hoping to bring back life – showcasing the importance of water in this region and creating art that is a celebration of humanity that brings world attention to the disappearing Dead Sea.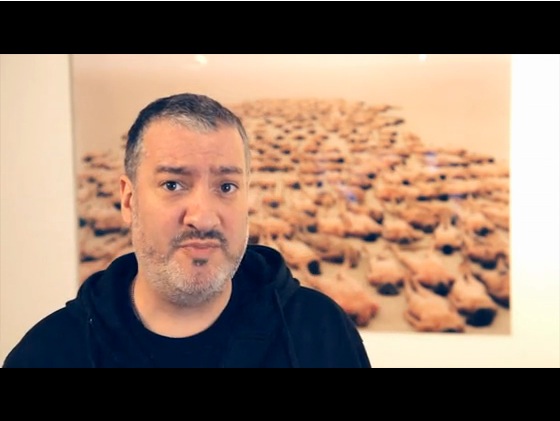 Spencer Tunick a besoin de vous !
For the past few years I have been gearing up for this project and working with Spencer. My first challenge was to see if the people of Israel were ready to get naked for art. To my surprise the overwhelming answer was yes. A group of 5 University students started a grassroots campaign to enlist local participation and thousands have since volunteered. My second challenge, acquiring financial support from local government, institutions, and sponsors. Due to the nature of this art in this region of the world– this has proven to be the most challenging. After years of great effort and consulting with Spencer, I have decided to start a Kickstarter campaign to finally bring this project or, "Sea" to life in 2011.
I would like to reach out to all of the fans of Spencer Tunick and the body in art – whether you have participated in his work or have followed in the past. Please look through our promotional video and links below and pledge your support – all funds will go directly to the artist to support this project. Of course you do not have to participate in the Dead Sea installation to contribute.
Last and not least a supporting message from Spencer Tunick: "I have been collaborating with Ari Fruchter for the past few years as he has undertaken the difficult mission to curate and produce an installation of my art in Israel. This is a project that is very special to me, one that I have dreamed of since my early days as an artist. We look forward to your support and to exposing a part of Israel that has not been seen before and at the same time bringing attention to the diminishing waters of the Dead Sea". Spencer Tunick»
Pour participer en finançant le projet, rendez-vous sur la page Kickstarter du projet Naked Sea : http://www.kickstarter.com/projects/nakedsea/1724064263
Le 5 mai 2011.