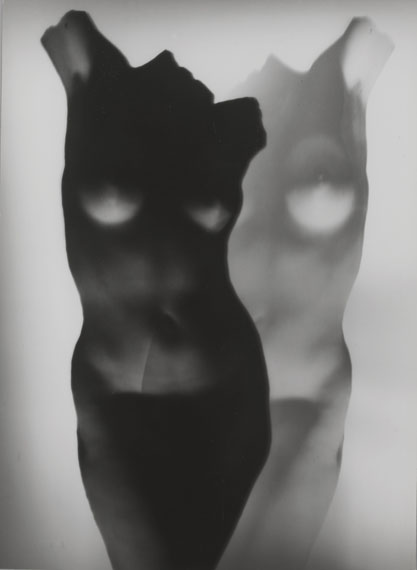 Heinz Hajek-Halke, Untitled, 1930-36, (Schwarz-Weisser Akt/ Black and White Nude),Vintage silver print.
Ventes du 6/5/2011 au 10/5/2011 Terminé
Sotheby's Paris 76 rue du Faubourg Saint Honoré 75008 Paris France
Sotheby's London 34-35 New Bond Street W1A 2AA London Royaume-Uni
On 10 May 2011, Sotheby's European Photographs department will hold two photographs sales: L'Essentiel Heinz Hajek-Halke an auction which comprises the most compelling vintage prints from the 1920s to the 1950s of this German avant-garde photographer coming to auction directly from the artist's estate, and Photographies a various owner sale offering an exceptional selection of works by the leading photographers of the 19th, 20th and 21st centuries.
Prior to the auction date the highlights from both sales are sent on a travelling exhibition to Sotheby's New York and London in addition to the preview in Paris. The exhibition in London will be on show from 16 to 21 April and will focus on high quality material from the 19th century and early 20th century - the vintage era.
A prime example is the work of the pioneering Czech master Joseph Sudek. In our last sale in Paris in November 2010 we have achieved world record prices for two of his vintage pigment prints: Sans titre (Vase et rose morte), 1952 was estimated at € 14,000 – 18,000 and realised € 228,750, Sans titre (Etude de nature-morte), 1952 was estimated at € 18,000 – 23,000 and realised € 300,750. On exhibition in London will be three fantastic pigment prints: Nature-morte à la poire, 1950-54 (€ 8,000 – 12,000), Nature-morte à la branche de mûres, 1950s (€ 10,000 – 15,000), Verre, du cycle Simple Still Lifes, 1950-1959 ( € 14,000 – 18,000).
Man Ray, the great modernist who significantly contributed to the Dada and Surrealist movements and famously made the photogram his own under the name of Rayograph – an image created by placing an object directly on a piece of photographic paper and exposing it to light to capture its impression – will be represented in the exhibition with one of these ethereal creations Rayograph, 1924, estimated at € 120,000 – 150,000, as well as vintage silver prints of a Mathematical Object, 1936 (€ 30,000 – 50,000) and a Nude, c. 1933 (€ 40,000 – 60,000).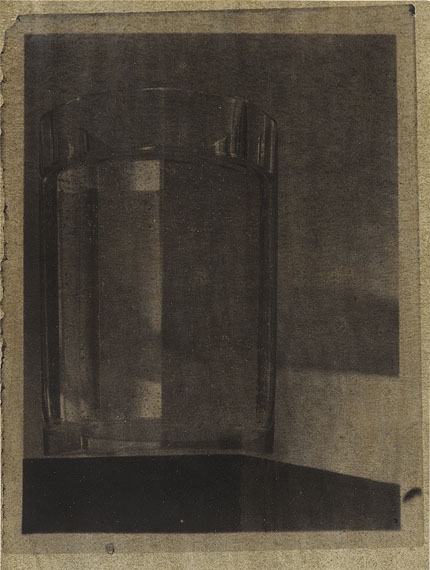 Josef Sudek
Verre, du cycle Simple Still Lifes, 1950-1959
Vintage pigment print, Estimate € 14,000 – 18,000
A representative selection from the single owner sale The Essential Heinz Hajek-Halke will showcase the ingenuity of this remarkable figure of German avant-garde photography. Hajek-Halke's oeuvre holds a significant place in the history of photography. His artistic output from the inter-war period is characterised by photomontages and experimental works with an ironic, critical, sometimes political, even almost anarchic expression; many of his pictures reflect the modernity of life in a metropolis like Berlin. After WWII Hajek-Halke focused on abstract experimental studies which he called 'Lichtgrafiken'. In 1949, he joined the avant-garde group fotoform founded in Saarbrücken by Otto Steinert, Peter Keetman and others. He died in Berlin in 1983.