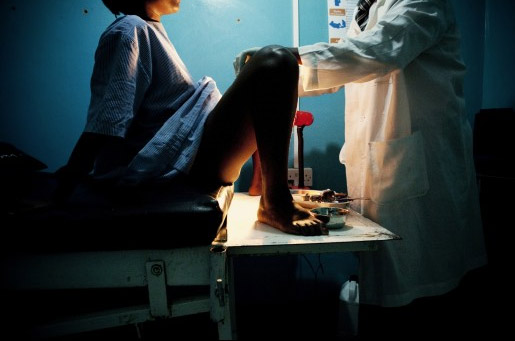 Twelve young photographers will meet with a group of masters for the 17th annual World Press Photo Joop Swart Masterclass to be held from 29 October to 4 November 2010 in Foam_Fotografiemuseum, Amsterdam. The 12 participants were selected among 162 candidates who had been nominated to submit their portfolios. During the masterclass meeting, the participating photographers will interact with six prominent experts, discussing technical, journalistic and ethical aspects of their work. A selection of their photography has been compiled in the photo book Persistence.

Persistence book launch

The publication of Persistence presents the masterclass participants' photo essays, each with its distinctive – often widely diverse – interpretation of the theme. The hardcover book also puts the stories into perspective, and provides background information on the participants and the masters.
Persistence will be launched on Thursday, 4 November in Amsterdam. The book may be purchased for €15 at Foam and the World Press Photo online bookshop www.worldpressphoto.org/publications from 5 November.

Participants and their photo essays:

· Lurdes R. Basoli, Spain, The Garden
· Maisie Crow, USA, This is Today until Tomorrow
· Giulio Di Sturco, Italy, Liberia: Women's Land
· Sarah Elliott, USA, Poor Choices
· Adam Ferguson, Australia, Afghanistan: America at War
· Andrea Gjestvang, Norway, Everybody Knows this is Nowhere
· Lissette Lemus, El Salvador, The Long Road
· Justin Maxon, USA, Slow Down... Breathe... Only this Life
· Dominic Nahr, Switzerland, Pwani Kwa Bahari
· Saiful Huq Omi, Bangladesh, The Disowned and the Denied
· Ed Ou, Canada/Taiwan, Dancing with the Dead
· Alvaro Ybarra Zavala, Spain, Kuderu


Lecture by Antonin Kratochvil

Throughout the week, masters will give lectures on different subjects. One of the presentations, by Antonin Kratochvil, will be available from 10 November on www.worldpressphoto.org.

Antonin Kratochvil, Czech Republic, is a founder of VII Photo Agency. As a photojournalist he has tackled a good deal of upheaval and human catastrophe, whilst going about his documentation of the times in which we live. Over the years, Kratochvil's unconventional work has ranged from photographing Mongolian street children to a portrait session with David Bowie and covering the war in Iraq for Fortune magazine. He has brought out five books of his own and received several awards. Among his array of awards are a Lucie Award for Outstanding Achievement in Photojournalism, a Leica Medal of Excellence, and three World Press Photo first prizes.

Joop Swart Masterclass masters:

· Jodi Bieber, South Africa, photographer Institute
· Alejandro Castellote, Spain, independent curator
· Antonin Kratochvil, Czech Republic, photographer and founder of VII Photo Agency
· Dewi Lewis, UK, founder and publisher Dewi Lewis Publishing
· Santiago Lyon, USA, director of photography The Associated Press
· Maggie Steber, USA, independent photographer


The Joop Swart Masterclass receives support from Delta Lloyd Group, Stichting Democratie en Media and Canon, which provides all participants with a grant. World Press Photo receives support from the Dutch Postcode Lottery and is sponsored worldwide by Canon and TNT.