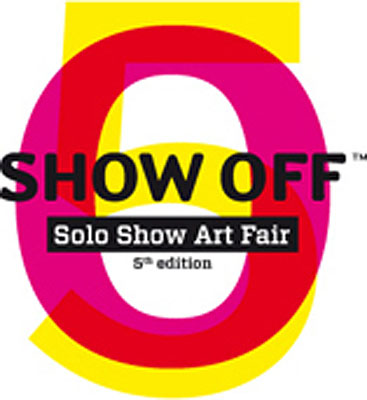 For its fifth édition, SHOW OFF 2010 becomes the SOLO SHOW art fair of Paris.

SHOW OFF will take place October 21-24, 2010 during Paris's Contemporary art week and will be set in a luminous, élégant tent in the heart of Paris, a few steps away from the Grand Palais and the banks of the Champs Elysees. Painting, photography, drawing, sculpture, vidéo, and installation; all media will be presented en a unique format highly favorable to participating artists.

«Amidst the overwhelming profusion of autumn art fairs in the heart of this outpouring of art which sometimes remindsus of what it's outpouring of art which sometimes reminds us of what it's like to stroll through a busy bazar, I look forward to the breath of fresh air that SHOW OFF promises, because art is no guaranteed luxury. The challenge of the One Man Show i s a bold one!»

Jérôme Ladiray, Ladiray gallery.
David LaChapelle
" I am presenting a selection of works that best portray the consistent themes I have been exploring throughout my career - from some of my earliest works that were shown during the 1980's in New York galleries, on through the 15 years I spent while working for magazines.
This time my objective was to document America's obsessions and compulsions using publications as a means to reach the broadest possible audience. I was employing "pop" in the broadest sense of the word. I was photographing the most popular people in the world to the marginalized always attempting to communicate to the public in an explicit and understandable way. The images were always meant to attract, not alienate. Inclusion has always been the goal when making these pictures, and continues on in the newest works that will be exhibited.
The difference between the works I did as a photographer for hire and the most recent is that I'm freed from the constraints of magazines. The work has not only been liberated from the limitations of glossy pages, but has also emerged from the white frame, engaging the viewer with the exploration of three-dimensional tableaux.
I feel that we are living in a very precarious time, with environmental devastation, economic instability, religious wars waged, and excessive consumption amidst extreme poverty. I have always used photography as a means to try to understand the world and the paradox that is my life.
There is the feeling that we are living at a precipice. My hope is that through the narratives told in my images, I will engage people and connect with them addressing the same ideas or questions that possibly challenge them.
My latest pictures are a reflection of my earliest pictures. I reintroduce my personal ideas of transfiguration, regaining paradise, and the notion of life after death."?

David LaChapelle's photography career began in the 1980's in New York City galleries. After attending the North Carolina School of Arts, he moved to New York where he enrolled at both the Art Students League and the School of Visual Arts. With shows at 303 Gallery, Trabia McAffee and others, his work caught the eye of his hero Andy Warhol and the editors of Interview Magazine, who offered him his first professional photography job.
Working at Interview Magazine, LaChapelle quickly began photographing some of the most famous faces of the times.
Before long, he was shooting for the top editorial publications of the world, and creating the most memorable advertising campaigns of a generation. His striking images have appeared on and in between the covers of magazines such as Italian Vogue, French Vogue, Vanity Fair, GQ, Rolling Stone and i-D. In his twenty-year career in publishing, he has photographed personalities as diverse as Tupac Shakur, Madonna, Amanda Lepore, Eminem, Philip Johnson, Lance Armstrong, Pamela Anderson, Lil' Kim, Uma Thurman, Elizabeth Taylor, David Beckham, Paris Hilton, Jeff Koons, Leonardo DiCaprio, Hillary Clinton, Muhammad Ali, and Britney Spears, to name just a small selection.

After establishing himself as a fixture amongst contemporary photography, LaChapelle expanded his work to include direction of music videos, live theatrical events, and documentary film. His directing credits include music videos for artists such as Christina Aguilera, Moby, Jennifer Lopez, Britney Spears, The Vines and No Doubt.
His stage work includes Elton John's The Red Piano, the Caesar's Palace spectacular he designed and directed in 2004, which just recently ended its five year run in Las Vegas. His burgeoning interest in film led him to make the short documentary Krumped, an award-winner at Sundance from which he developed RIZE, the feature film acquired for worldwide distribution by Lions Gate Films. The film was released in the US and internationally in the Summer of 2005 to huge critical acclaim, and was chosen to open the 2005 Tribeca Film Festival in New York City.

Recent years have brought LaChapelle back to where he started, with some of the world's most prestigious galleries and museums exhibiting his works. Galleries such as the Tony Shafrazi Gallery in New York, Jablonka Galerie in Berlin, the Robilant + Voena Gallery in London; and Maruani & Noirhomme in Belgium have housed his works as well as Institutions such as the Palazzo delle Esposizioni and Palazzo Reale in Italy; the Barbican in London, and The Helmut Newton Foundation in Berlin.

In 2009, exhibitions in Mexico City at the Museo del Antiguo Colegio de San Ildefonso, in Paris at the Musee de La Monnaie, and in Guadalajara at the Museo de Las Artes all broke attendance records. These shows presented his latest series of works with which LaChapelle has broken out of the frame, presenting three-dimensional sculptural murals.
VEE SPEERS
Vee Speers was born in Australia and has been living in Paris since 1990. Her portraits have been exhibited and published world-wide. Her first book «Bordello» with a forward by Karl Lagerfeld, constructs elaborated filmic interiors of fantasy inspired by the lavish Parisian bordellos of the 1920's.
Speers's most récent work «The Birthday Party» is a series of short stories linked by the thème of an imaginary birthday party. In a conceptual and technical departure from her previous work, it is partly a self portrait, sometimes woven with threads from her own childhood.
Her last work IMMORTAL is presented for the first time at acte2galerie for Show Off.

PASCAL BERNIER

This disenchanted world which has lost the innocence of its 'paradise' is what Pascal Bernier now depicts for us as a vast laboratory of violence, where he cynically admits he works "without anaesthetic".

Pascal Bernier's fatal toys

Fairy stories are definitely a thing of the past. If once upon a time there was an age when humanity could still believe in the profoundly miraculous nature of the world, it was because it was still untouched by these techno-sciences which since the modern age have enabled cruelty to expand systematically. As the witnesses and sometimes victims of this dehumanisation process, artists have on several occasions given us extremely scathing illustrations of this increasingly mechanical evolution. The science-fiction of the early 20th century with a film like Metropolis, or the "futurist" glass globe scenario, or closer to home, Warhol's Electric Chair as early as the 1960s anticipates the shock of an encounter with "Forbidden America".

This disenchanted world which has lost the innocence of its "paradise" is what P. Bernier now depicts for us as a vast laboratory of violence, where he cynically admits he works "without anaesthetic".

Also, instead of chloroformed regrets, the artist prefers to cut into the quick of the subject and with desperate energy take on a battle which enables him to confront as a tragic-comic hero the increasingly "cheap" morbidity of his time. In order to answer this both aesthetic and ethical emergency, several works focus on objects such as children's toys, which have difficulty in coming to terms with the loss of the "perfect world" to which they were attached. From this point of view, the Hunting accidents and Farm Sets series form one of the most exemplary statements on this fallen nature, where Bambis are now game and "Animal Farm" -to borrow Orwell's title- is a concentration camp universe. As repetitive as the oil slicks, animal tortures and ethnic genocides of our daily realities, these images of blindfolded animals or furry toys and "virtual landscapes" thus follow on from one another in the stream of works like a disaster that can not be stemmed. For in this artist's work, there is also a keen awareness of the irreversibility oftime which certain philosopher scientists have identified through the description of physical systems referred to as "unstable". Translated in terms of fractal geometry and statisticallaws, this paradoxical vision of programmed chaos as an end in itself -probably the amplification of an original instability- gives the work its utterly nightmarish dimension. From this point of view, the "butterfly effect" which was the principal tool in the popularisation of chaos theories is not unrelated to these pieces entitled WWF, for which Bernier grafted fighter plane roundels onto the wings of several species of insects, as a sign -who knows?- of some new kind of future micro-biological war. Just like model aircraft boxes, these little transfers also refer to a childhood world whose playful activities are not as innocent as they may on first sight appear. On the toy shelves of our supermarkets, the arms' race is in full swing, even if morality is draped in the Heroic Fantasies costumes of Spider Man or Super Man. Along the same lines, we can also cite such series as cooked Battlefield or Beach Guns, which make use of the apparently contrad ictory telescoping tech n iq ue albeit against the cruelly true background of leisure activities and war: the former by frying up little lead soldiers, the second by making sand castles in the shape of revolvers.

Denis Gielen