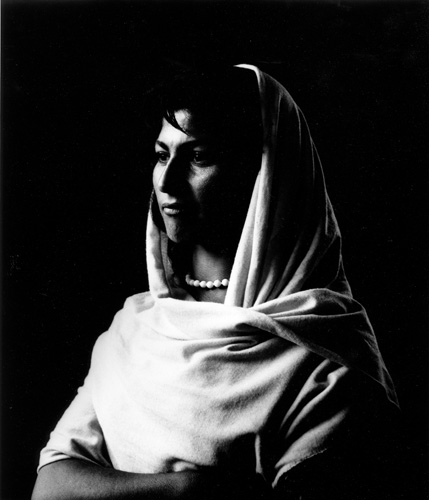 "Every millimetre of every black-and-white grain in every single one of Lucien Clergue's pictures is for me an Arles-flavoured 'madeleine', as much as the pores of my skin. Doubtless because he was my first photographic go-between - as if he had already illustrated the depths of my memory with the living mythologies which, from La Roquette to Trinquetaille, have been ours since time immemorial; with the reflections - modern, trivial, sublime - of the ancient theogonies."
Christian Lacroix

Once again, Bernheimer Fine Art Photography's forthcoming exhibition from 5th March 2009 at no. 7 Brienner Strasse follows the principle of showing artists "from a different angle". Lucien Clergue curated by Christian Lacroix presents the photographer through the eyes of the great fashion designer.

Although 17 years separate them, a long-standing friendship links the fashion designer and the photographer that goes beyond a shared hometown. Lucien Clergue recalls: "Like me, Christian Lacroix comes from Arles. He once told me that, in the sixties, when I was spending a lot of time with Picasso and Cocteau in Arles, he was one of a group of youngsters who used to hang about nearby."

In his selection of exhibits for the exhibition, first shown during this year's Rencontres Internationales de la Photographie in Arles, qualified art historian Lacroix opted to focus on photographic series from the 50s and 60s. For him, the photos are an exploration of their shared roots and the visual memories of Arles and the Camargue so familiar to both artists, such as the faces of the gypsies in their annual procession to Saintes-Maries-de-la-Mer, the ancient tombstones and the ruins of the war-torn city.

Born in 1934 in Arles to a grocer's family, Lucien Clergue was hardly marked out for such a career by birth. He discovered photography as an autodidact, but had his successes even in the 50s. He made Picasso's acquaintance when he was 19, and their shared passion for bullfighting led to a lifelong friendship. It was Picasso who also introduced him to other great artists, including Jean Cocteau, who once very aptly described Clergue as a "poet with a camera".

The exhibition at Bernheimer Fine Art Photography on the occasion of Lucien Clergue's 75th birthday takes over Christian Lacroix's original hanging for the Rencontres, supplementing it with works from the Langage des Sables, Nu de la Plage and Camargue Secrète series with other pictures of Arles and the Camargue from his private archives. "The Camargue is where my family come from," says Lucien Clergue. "For fifty years, since 1959 in fact, I've been photographing water as a symbol of Mother Earth and a reflection of the landscape. This was where I took my series Langage des Sables andNus de la Mer, and it's where I want to be buried one day."

After Toros y Toreros (2004) and a comprehensive retrospective (2005), this exhibition marks a further development of Bernheimer's collaboration with the artist. In the coming years, Lucien Clergue will be represented in Germany and Austria exclusively by Bernheimer Fine Art Photography.

The exhibition and sale is on from Thursday, 5th March 2009 to Saturday, 25th April 2009 in the galleries of Bernheimer Fine Art Photography at no. 7 Brienner Strasse. A catalogue will accompany the exhibition.