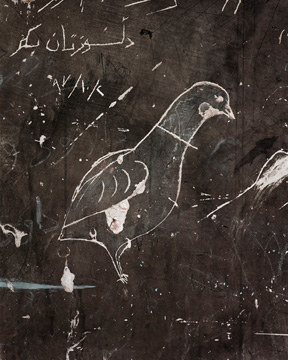 Expositions du 30/1/2009 au 8/3/2009 Terminé

Brancolini Grimaldi Via dei Tre Orologi, 6/A 00197 Roma Italie


Brancolini Grimaldi is pleased to present "The Red House", Adam Broomberg and Oliver Chanarin's first solo exhibition in Italy. The show is comprised of 23 photographs of wall drawings and graphic markings made by Kurdish prisoners held in solitary confinement. The cells, hidden below Saddam Hussein's Ba'athist party headquarters, were only made accessible after the 1991 Kurdish uprising that left The Red House abandoned.

Rather than conventionally documenting the architecture of this historic monument, Broomberg and Chanarin kept with their stylistic method, capturing isolated details, bare of visual references. As David Campany writes in Aperture magazine (#185, November 2006) "The camera is used to isolate these things, to cut them out for interpretation and reflection. Their camera usually looks at the subject head-on and center frame, raising the promise of immediacy or 'plain speaking'". These poignant images capture the prisoners' creative outlet amidst the loneliness, fear, endless boredom, and ultimate horror of incarceration. Despite the sorrowful context, the walls tell different stories through drawings that range from figurative to abstract.

The color photographs present the viewer with worn surfaces that reveal layers of writings and drawings. Soft shades of grey and white melt into one another and are often disrupted by harsh gouges and violent spots of red paint. In the rich sketches of The Red House #13, one can almost recognize the gestural markings of Cy Twombly. The simplicity and boldness of others remember Brassai's graffiti photographs from the 1930s. The incredible artistic dexterity seen in figurative works such as The Red House #23 comes as a surprise given the setting. These pictures will forever serve as evidence that pushed to unbearable extremes, the human spirit can, remarkably, manage to find its way to creativity, borne of the will to leave behind some sort of mark that might outlast the harsh realities of conflict.

Adam Broomberg (born 1970, South Africa) and Oliver Chanarin (born 1971, England) are currently based in London. They have been collaborating for over a decade and have produced six books which in different ways examine the language of documentary photography. From 2000 to 2003, the two artists worked as creative directors and principal photographers for Colors, the Benetton Foundation magazine. Solo shows have been presented at the Stedeijk Museum, Amsterdam, the National Portrait Gallery, London, and the Hasselblad Center, Sweden. Their work is represented in many important public and private collections, including the Victoria & Albert Museum, London, National Portrait Gallery, London and the Van Vissingen Collection.