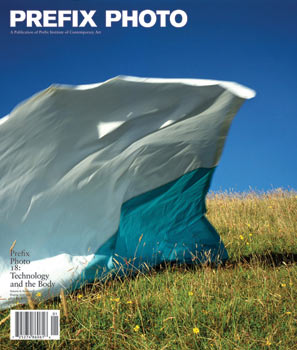 Prefix Institute of Contemporary Art is pleased to announce the release of the eighteenth issue of Prefix Photo magazine. Addressing the theme of "technology and the body," editor Scott McLeod writes: "In recent years the body has returned to contemporary art, though it is a body whose reconfiguration by technology has produced unexpected, radical – and sometimes perplexing – forms of representation." The issue features contributors addressing a host of photo, media and installation artists, as follows:

Shannon Bell writes about the bio-art collective BioKino. She explores the Living Screen, a living cinematic apparatus created by the artist collective.

Eric Cazdyn writes about the new chronic, a mode of time that cares little for terminality or acuteness, but more for a palliative present that remains forever sick.

Amanda Delorey and Marnie Fleming reflect on their experience of particular works in the 55th Carnegie International, demonstrating the breadth of concerns in evidence, ranging from the Earth to outer space, from tragedy to comedy, and from the extraordinary to the everyday.

Sophie Hackett, in her literary feature "Gathering Waterlillies," recalls her first encounter with Peter Henry Emerson's platinum print photograph.

Other contributors include Max Dean, Erika DeFreitas, Thomas Hirschhorn, Mike Kelley, Mathias Kessler, Rosario López, Ranjani Shettar, Cheryl Sourkes, Penelope Umbrico, Jennifer Willet and more.

Give the gift of a two-year subscription of Prefix Photo to yourself or another and receive a free back issue of your choice.* Prefix Photo is available by subscription and in fine bookstores and newsstands in Canada, the United States, the United Kingdom, Portugal, Spain, Greece, Turkey, Singapore and China.

* Issues 1 and 15 are sold out and, as a result, are not available through this offer. Offer expires January 31, 2009.

For their assistance with the release party in Toronto, Prefix Institute of Contemporary Art gratefully acknowledges its Supporting Sponsors C.J. Graphics and Steam Whistle Brewing, and its Official Catering Sponsor, à la Carte Kitchen.

Prefix Photo is published with the assistance of its staff, volunteers and patrons, as well as the Ontario Arts Council, the Ontario Media Development Corporation and the Canada Council for the Arts. Prefix Photo also acknowledges the financial support of the Government of Canada through the Canada Magazine Fund toward its editorial and production costs. The Ontario Arts Council is an agency of the Government of Ontario.