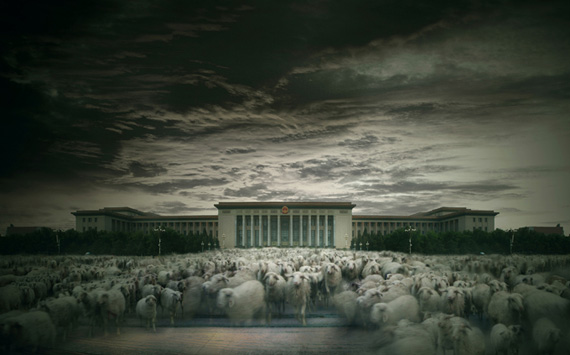 Expositions du 1/11/2008 au 9/1/2009 Terminé
m97 Gallery No. 97 Moganshan Road 2F 200060 Shanghai Chine
m97 Gallery Shanghai is pleased to present "EXQUISITE CORPSE: China Surreal", a dynamic group exhibition of photographic works. Co-curated by Mathieu Borysevicz and m97 Gallery, this exhibition uses the Surrealists' game of Exquisite Corpse as a means to explore the collective subconscious of contemporary Chinese artists through the medium of photography. Twenty emerging and established artists present uncanny images arranged in a delicately composed sequence of non-sequiturs that reveal the surreality of today's China.
"Poetry must be made by all and not by one." - Comte de Lautréamont

The Exquisite Corpse game began in France in 1925 around a table of poets and artists. In this improvisational game a player would write a phrase on a sheet of paper, fold the paper to cover part of it, and pass it on to the next player for their contribution. "The exquisite/corpse/will drink/the young/wine" was the poetic result of the first round played and hence the game's name was born. While many initially condemned it as a frivolous game, others were quick to praise its significance for illuminating what Nicolas Calas deemed as the "unconscious reality in the personality of the group" or the group's collective subconscious. Max Ernst identified these subconscious outcomes as the result of the process called "mental contagion." The game was quickly adapted to the visual realm of drawing and collage by assigning a section of the human body for each player to imagine.

In the exhibition "EXQUISITE CORPSE: China Surreal," an eclectic array of work by artists of different generations and backgrounds expose the "mental contagion" in today's China, whereby culture, tradition, the body and imagination have all been jarred by rapid social transformation. Drawing from China's shared grab bag of surrealistic inspiration, artists have produced works that unintentionally inform, influence and question one another's. Each work in this exhibition is linked to the next by visual or conceptual themes, sometimes subtle, sometimes explicit, to produce one communal Exquisite Corpse. It is a succession of cryptic insights that only China's present reality could have shaped and which, in the end, yields only more enigmas.
Artists Dong Wensheng, Han Lei, Hong Lei, Lu Jun, and Wang Ningde construct neurotic testimonies to the growing sense of historical amnesia and individual alienation in today's society. Through Han Lei's alarming portraits of rural stage actors, Hong Lei's digital montages that mix cultural myth with political myth, and Wang Ningde's disturbing film-still narratives, we see that the past is still in front of us, waiting to be contended with. This sense of historical amnesia is also evident in works that deal with China's continually morphing constructed environment. Urban transformation becomes the metaphorical crux in the work of artists Zhang Dali, Fang Er, Yang Yi, Meng Jin and Li Wei. While Li Wei and Zhang Dali's works are documents of actual urban interventions, Yang Yi, Sun Ji and Fang Er reconstruct fictional spaces from existing ones; artists Liu Ren and Ma Liang use the city as a stage for their own fantasies to play out. As in the Exquisite Corpse's original visual adaptation, the human figure in this exhibition is also a means to explore the substratum of corporeal existence. Bai Yiluo, Sheng Qi, Mao Yu, Yu Ji, and Zeng Han all posit the figure at the intersections of nature, myth and imagination to produce results that are violent, disturbing and mesmerizing.

Exquisite Corpse: China Surreal brings together twenty artists that represent the vanguard of artistic production in China today to explore the imaginary possibilities of a collective subconscious.