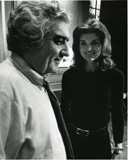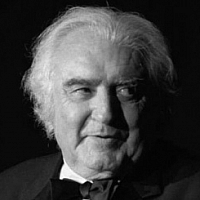 (New York, New York—May 23, 2008) Cornell Capa, visionary photographer, editor, and Founding Director of the International Center of Photography (ICP) died in New York on Friday, May 23, 2008. "The world has lost a great photographer and a great humanitarian; the world of photography has lost its greatest friend and champion," said Willis E. Hartshorn, ICP Ehrenkranz Director.
Cornell Capa, who founded ICP in 1974, coined the term "concerned photographer." His own photographs throughout his lifetime remained true to that mission. His respect for humanity and his desire to help better the world through photography was reflected in his images. He photographed missionaries and poverty in Latin America, and covered politics throughout the United States, including his classic studies of Adlai Stevenson and John F. Kennedy. The lyricism of the Bolshoi Ballet, and the quirkiness of American and British life found their way to Capa's camera; and his documentation of old age in America showed us that photographic images have the power to change the way we look at the world. "Cornell believed that photographs could lead us to action," said Mr. Hartshorn.
One of the passions of Cornell Capa's life was a dedication to the example set by his brother, famed war photographer Robert Capa. Cornell Capa's photographs and those of other photographers he championed, often reveal the richness of an ordinary person's relationship with the world, encompassing everything from cataclysmic events to the subtle epiphanies of daily life. "It took me some time to realize that the camera is a mere tool, capable of many uses," Capa wrote in 1963, "and at last I understood that, for me, its role, its power, and its duty are to comment, describe, provoke discussion, awaken conscience, evoke sympathy, spotlight human misery and joy which otherwise would pass unseen, un-understood and unnoticed. I have been interested in photographing the everyday life of my fellow humans and the commonplace spectacle of the world around me, and in trying to distill out of these their beauty and whatever is of permanent interest."
From Europe to the U.S.
Capa was born Kornel Friedmann on April 10, 1918 in Budapest, Hungary. Graduating from the Imre Madach Gymnasium in Budapest in 1936, he intended to study medicine, and joined his brother André (Robert Capa) in Paris. Shortly thereafter, he began printing his brother's photographs, as well as those by Chim (David Seymour), and Henri Cartier-Bresson. After moving to New York City in 1937, he got a job in the darkroom of the Pix photo agency, which represented Robert Capa, and the following year he began working in Life magazine's darkroom, where he met many leading photojournalists and was inspired by their work. In 1939 he published his first photo-story on the New York World's Fair, in the British magazine Picture Post. It was at this time that he also made his well-known stop-action flash photos of lindy hoppers in Harlem.
In 1944 he became an American citizen and officially changed his name to Cornell Capa, in the course of a stint in the U.S. Air Force Photo-Intelligence Unit and USAF public relations division (1941-46). After becoming a Life staff photographer in 1946, he worked first on assignments throughout the United States, and subsequently in England—the latter of which Capa thought of as one of the most wonderful periods of his life, as it allowed him the opportunity to begin working consistently on serious and satisfying photo-essays.
Work abroad
In 1953 Capa made his first trip to Latin America, where he would spend much time—and do some of his most important work—over the course of the next twenty years. 1954 saw him working back in the U.S., on a story for Life about the education of developmentally disabled children and young adults. This feature was a breakthrough, for until then the subject had been regarded by most American magazines as taboo. Published in two parts, the story drew such a favorable response from the public that Capa, with writer Maya Pines, expanded it into a book entitled Retarded Children Can Be Helped.
After Robert Capa was killed in Indochina on May 25, 1954, Cornell Capa resigned from the Life staff and joined the elite Magnum Photo Agency, the cooperative of which his brother was a founder, helping to manage it as its President. While there, his work ranged from continuing documentation of politics in South America and in the United States, to a six-week period in the Soviet Union where he photographed stories on Russian Orthodoxy, Boris Pasternak, and the Bolshoi Ballet School. While Capa has called his stay in the Soviet Union the most miserable time in his life because of his constant frustration in dealing with the official bureaucracy and church functionaries, it was nevertheless during this trip that he shot some of his greatest and most memorable photographs.
Fascination with American politics
In 1952, he proceeded to cover Adlai Stevenson's presidential campaign. He admired Stevenson greatly and supported his cause enthusiastically: the photographer and the politician became friends, and Capa would ultimately cover Stevenson's subsequent bids for the presidency in 1956 and 1960. However, during the 1960 Wisconsin primary, while working on a story for Life on the nature of American politics (which remained one of his foremost preoccupations through the late 1960s), Capa first encountered John F. Kennedy. Witnessing firsthand the extraordinary response that the candidate elicited from crowds, Capa gradually came to see that Kennedy was able to generate an excitement—especially among young people—that was rare among Stevenson's audiences. When Kennedy won the Democratic nomination, Life asked him to cover the campaign.
Attending Kennedy's January 1961 inauguration ceremony, Capa was struck by the new president's speech; the inspirational tone and adventurous spirit reminded him of the beginning of the Franklin Delano Roosevelt presidency, when FDR confronted daunting challenges and accomplished great things during his first hundred days. Capa decided to assemble a book on the first hundred days of the Kennedy presidency, enlisting eight fellow Magnum photographers and seven writers and historians in his effort. That book, Let Us Begin: The First 100 Days of the Kennedy Administration, often cited as the first topical photojournalistic book, came out on day 110, and Time magazine called it "instant history." The birth of the International Center of Photography
To describe his brother and his kindred spirits, Capa coined the term "concerned photographer," defining their focus as including any image in which genuine human feeling predominates over commercial cynicism or disinterested formalism. In 1966 he created the International Fund for Concerned Photography to keep alive the work of important photojournalists, spreading his message through exhibitions he guest curated, as well as workshops, books and audiovisual projects. He frequently assisted young photographers, and started a collection of important works of photojournalism, among them those of contemporaries who—like his brother—had died on assignment.
Seven years later, worried about the plight of photojournalism as television became paramount, and encouraged by friends and family to put his collection and activities all under one permanent roof, Capa, along with a group of dedicated trustees, proceeded to find and renovate a beautiful Federal style landmark building on Fifth Avenue and 94th Street, and raised funds for the museum and school that would become known as the International Center of Photography (ICP). His venture attracted a professional staff and many young photographers for whom he became role model, mentor, and missionary for the genre of "concerned" or humanistic photography.
ICP opened in November 1974, and as Capa liked to say, "was born fully grown." He had brought his many projects with him and was ready with a full schedule of changing exhibitions and education programs, a fledgling collection and study center, and traveling exhibitions available to museums throughout the U.S. and abroad. It was to be a home not only for concerned photography but also for photography of all sorts, from all times, and from all nations. And it was to be a place to show not only neglected work but also to preserve the archives and negatives of photojournalists, two cornerstones that continue to underpin the institution today.
"Remarkably, when ICP was formed, the position of photography as a visual art was a far cry from the present," said Mr. Hartshorn. "There were only a small handful of commercial galleries devoted exclusively to photography, and few American museums had a photography department, much less a photography collection. But Cornell's ICP helped change it all."
ICP as a beacon
Capa made himself available to anyone who wanted to see him, not just staff and friends, but also the many photographers from around the world who came to him for advice and encouragement. Henri Cartier-Bresson called ICP the "lighthouse of photography"; Time, Newsweek, and The New York Times ran feature articles; and an enthusiastic Jacqueline Kennedy, after attending opening night, wrote an anonymous piece in The New Yorker magazine heralding the new institution. Mrs. Kennedy later became a Trustee.
From the very beginning, the range of ICP's exhibitions ventured far beyond photojournalism to include fashion, landscape, medical and scientific work, holography, color and contemporary documentary projects. By the time of his retirement in 1994, ICP had shown over 425 exhibitions in New York and abroad, had hosted photographers from around the world in lectures, workshops and symposia; established two successive satellite branches, in midtown Manhattan and one in the Wall Street area, retired the long standing deficit from ICP's under-capitalized start, and inaugurated a world famous Annual Awards event, The Infinity Awards (now in its 21st year), to recognize outstanding achievements in photography internationally. On his retirement, he was named Founding Director Emeritus, and the most prestigious Infinity Award was named in his honor.
Succeeded by Willis E. Hartshorn, Capa remained very much a part of ICP's activities, and celebrated the Museum and the School's move to its new and expanded midtown Manhattan campus in 2000-2001. He became active creating exhibitions from the Capa Archives for international venues and maintained his role in Magnum. His own photography—having been put aside for over two decades by the demands of the young institution—began to be rediscovered, and is today enjoyed by a wide and appreciative audience.

Exhibitions and publications
Cornell Capa's photographs have been exhibited in exhibitions around the globe, most recently in JFK for President: Photographs by Cornell Capa first at ICP and then at Moscow Museum of Contemporary Art, Moscow, Russia, and Les Rencontres d'Arles Photographie, Église Sainte Anne, Arles, France. Other publications of Cornell Capa's work include Margin of Life; Cornell Capa: Photographs; and Capa & Capa. Cornell served as editor of his publications and Israel/The Reality; Behind the Great Wall of China; The Concerned Photographer; The ICP Library of Photography; and with Richard Whelan Children of War, Children of Peace; and Photographs by Robert Capa.
Funeral
Cornell Capa is pre-deceased by his wife of 61 years, Edith Capa; by his brother Robert; and by several generations of "concerned photographers" for whom Cornell was a central figure in their careers and their lives.
Burial is private. A memorial service will be held on September 10th at 10 a.m. at The Times Center at 242 West 41st Street in Manhattan. Contributions in memory of Cornell Capa may be made to the Cornell Capa Legacy Project / International Center of Photography / 1114 Avenue of the Americas / New York, NY 10036; or by calling Chuck Ferrero at 212-857-0036.