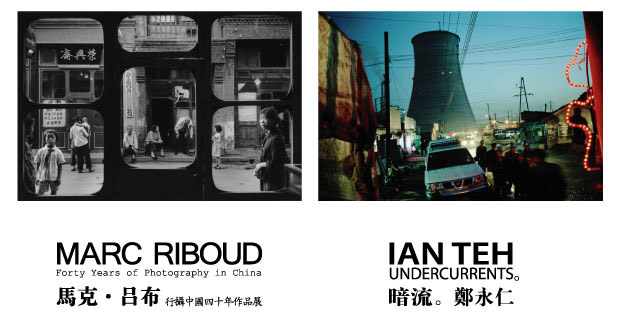 Expositions du 26/4/2008 au 10/6/2008 Terminé

Paris-Beijing Photo Gallery The Old Factory 798 Art District, Dashanzi, Jiu Xian Qiao Lu n°4, 100015 Beijing Chine


Ian Teh Undercurrents
A member of the Vu Agency since 2001, Ian Teh has been documenting on China for the past ten years and has exhibited his photography all over the world. The Malaysian-born, British photo reporter's artistic creativity stems from his interest in social, environmental, and political issues of the modern world.

Ian Teh is a storyteller. Organically threading together images of integrative colors, he creates storylines based on real events, alive with nuances. By looking beyond the outwardly descriptive nature of his works, the viewer is able to discover the narrative that lies beneath. Teh's photography is a potential dialogue, an eloquent starting point for the viewer to travel beyond the limits of a photograph's frame and moment in time.

Throughout countless journeys within China, Teh offers a glimpse of another life and another world rarely seen. In his first series, Merging Boundaries, Teh takes us on a 1,000 kilometer road-trip along the Sino Russian North Korean border to observe the people and places that compose the intersections between the three last communist bastions.

In his second series, Dark Clouds, Teh examines some of China's most industrialized cities; an exploration into the other side of the economy's bright, shiny facade. Over the course of two winters and numerous trips to northeastern China, Teh portrays the daily lives of the people who are most affected by the coal industry.

Ian Teh has received numerous photography honors, including the World Press Masterclass. He was a finalist of the CCF Foundation for Photography prize in 2004, and his work has recently been acquired by the Los Angeles County Museum of Art (LACMA) in the United States.

The Paris-Beijing Photo Gallery will exhibit two of Ian Teh's series: Merging Boundaries and Dark Clouds from the 26th of April until the 10th of June.


Ian Teh practices photography as an elegant, adaptable explorer, a keen eye, and a curious walker...Teh's vision, both sensitive and caring of information, would not be expressed in any other way than with an elegant, refined, touching palette.
- Christian Caujolle-
Artistic Director of Vu' Agency


Marc Riboud
China: 40 years of photography

The Paris Beijing Photo Gallery is honored to exhibit world-renowned French Photographer Marc Riboud from the 26th of April until the 10th of June. Over the years Marc Riboud has recorded the harmony of landscapes and the beauty in faces all over the globe. A member of Magnum agency since its infancy, Riboud catches powerful images of history in the making through instinctual approaches and a respect for the people and places he photographs.

A world traveler for fifty years, this will be Marc Riboud's first China exhibition. Since his initial journey to China in the late fifties he has been a dedicated recorder of the country's fascinating and continuing evolution.

Riboud joined the prestigious Magnum agency in 1953 owing to his well-received picture, "Eiffel Tower Painter," and his successful meeting with founders Henry Cartier-Bresson and Robert Capa. A few years later he became the vice president of the European division. He observed and photographed the May 1968 protests in France, the U.S. demonstrations against the Vietnam War, and the Iranian Revolution, among many others. His photography also includes many celebrities, politicians (Mao Zedong, Khrouchtchev, Winston Churchill, Fidel Castro, Nehru), intellectuals (Jean-Paul Sartre, Simone de Beauvoir, Henry Miller, Ionesco), and artists (Picasso, Dali, Gong Li).

Marc Riboud has been the subject of numerous individual and collective exhibitions in New York, Paris, and Japan. Not until now have his works been exhibited in China, where he took his first photograph in 1956. From his pioneering works on the Chinese Cultural Revolution to the recent westernization and development, he has observed and recorded the events that have shaped present-day China. China has always been a lifelong interest for the artist with its varied landscapes, big cities, the countryside and Huang-Shan. As Riboud says, "It was so fascinating; just so fascinating."

Often referred to as a humanitarian photographer, Riboud's sensitivity to his subjects creates a connection between spectator and the work, initiating thought-provoking dialogue concerning political, social, and aesthetic views. His ability to capture genuine and fleeting moments of beauty, humor, and endless emotion, lead to his reputation as one the greatest photo reporters of the twentieth century.

The Paris-Beijing Photo Gallery will show a wide selection of Chinese photographs, taken from 1956 to the middle of the nineties, and a world tour through his most famous works.


This exhibition will be included in Festival Croisements/ Jiaoliu 2008, French Embassy.